Indiana Pacers (ABA)

Years of existence: 1967-68 through 1975-76
Colors: Blue & Gold
Home Arenas:
1967-68 to 1973-74: Fairgrounds Coliseum (11,000)
Exterior | Interior 1 | Interior 2
1974-75 to 1975-76: Market Square Arena (17,389)
Exterior | Interior 1 | Interior 2
Coaches:
1967-68 through November 1968: Larry Staverman
1968-69 through 1975-76: Bob "Slick" Leonard
---

Today's NBA fans are used to the idea that the Indiana Pacers are a stable, successful franchise. We see the Pacers in the NBA Playoffs most every year, and they play at the Bankers Life Fieldhouse - one of the best NBA arenas around. But in the world that was 1967, it was far from clear that Indianapolis wanted, or would even support, another professional basketball team.
In his book Reborn - The Pacers and the Return of Pro Basketball to Indianapolis, Mark Montieth takes you back to the start of the ABA, and the very beginnings of the Pacers franchise. For their first two seasons of 1967-68 and 1968-69, the Pacers had a lot going for them. They had a solid ownership group with (mostly) reliable financial backing. They had an aggressive, confident general manager in Mike Storen, a former Marine. They signed players like Roger Brown, Freddie Lewis, and Bob Netolicky, who would become bedrock players for the Pacers for years to come. Bob "Slick" Leonard eventually succeeded Larry Staverman as head coach, and propelled the Pacers to the 1969 ABA Finals against the powerful Oakland Oaks. Although the Pacers lost to the Oaks in five hard-fought games, they were positioned for solid, long-term success.
But the team faced some significant built-in difficulties. The Pacers' initial venue, the Fairgrounds Coliseum, was dark and dingy. Fans, players and the press endured squalid and primitive conditions. For example, the visiting locker room was on a second upstairs level with only one shower head, and the press room was a hastily remodeled restroom. The Pacers leased the Coliseum from the State Fair Board, which was indifferent if not hostile to the new ABA franchise. The Board failed to make agreed-upon improvements to the Coliseum, and often refused to make the Coliseum available to the team on key game dates. As a result, the Pacerswere forced to play a number of games, including several 1969 ABA playoff contests, in high school gyms. Free or discounted tickets were distributed to local organizations and groups, in order to "paper" the team's attendance and reputation. On the road, things were even more chaotic as the team had to contend with fights, freezing cold venues, slippery floors, delayed airline flights, and incompetent referees.
As a 12-year-old youngster, Mark attended several Pacers games at the Coliseum during their inaugural season of 1967-68. Starting in the early 1990's, he began to interview former Pacers players, coaches, owners, and front office personnel about the team's formation and initial two seasons. And in recent years, he has logged countless hours poring over newspaper microfilm, web pages, internal team documents, and ABA photo archives, to confirm the details of those seasons. It is fair to say that Reborn is the most thoroughly-researched ABA book in existence, serving as a detailed, day-to-day journal of the early Pacers (and really the early ABA as a whole). It is over 400 pages, with over 50 rare photos - highly recommended for any Pacers or ABA fan. The book is currently available at Amazon and Barnes & Noble. You can e-mail Mark with any questions you have about the the book.
---
Back to "Remember the ABA" Main Page
Did you see an ABA Pacers game? Or, did you have a favorite ABA Pacers player? Contribute to this web page by describing your favorite ABA Pacers memories.
(By Tim McGinnis) Through all the ups, downs, twists and turns of the wild ride known as the ABA, there was one constant -- the Indiana Pacers. Their three ABA Championships and five ABA Finals appearances in the nine seasons of the ABA were unmatched in ABA league history. Success, stability, and support all fed off each other to create a magical time and place among the legends of Indiana basketball.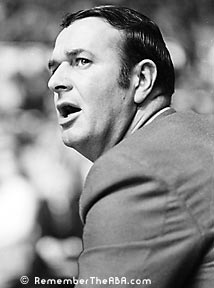 In 1967 there was no major league professional basketball in Indiana. A group of local businessmen joined together to come up with the entry fee and Indiana had a franchise in the new American Basketball Association. The team's objective would be to "set the Pace in professional basketball" and therefore would be called the "Pacers." The first player the team signed was Roger Brown. Brown had been blacklisted by the NBA and was working for General Motors in Dayton, Ohio when the Pacers came calling. A 6'5" forward who excelled in one-on-one and clutch situations, his number 35 is now retired by the team and he has been nominated for the Basketball Hall of Fame. Brown would be named second team All-ABA (19.6 ppg., 8.5 rpg) for the 1967-68 season. Other standouts on the first Pacer team were rookie F-C Bob Netolicky and G Freddie Lewis, who led the team in scoring (20.6 ppg.). Indiana high school and college hero Jimmy Rayl also helped both on the court and at the gate, as the Pacers were among the better drawing teams in the new league. Under coach Larry Staverman, the Pacers won their first game (117-91) over the Kentucky Colonels at a sold out Fairgrounds Coliseum. The team started out 5-0 on its way to a 38-40 record and a third place finish in the Eastern Division. The eventual ABA Champion Pittsburgh Pipers (featuring ABA MVP Connie Hawkins) swept the Pacers 3-0 in the Eastern Division Semifinals.
Before their second season, the Pacers made the greatest trade in team history. Jimmy Dawson, Ron Kozlicki and cash were sent to the Minnesota/Miami franchise for ABA Rookie of the Year Mel Daniels. A rugged 6'9" center, Daniels would end his career as a two-time ABA MVP, the ABA's all-time leading rebounder (9494 rbs., 15.1 rpg.), and have his number 34 retired by the club. After the second season started slowly at 2-7, Bob "Slick" Leonard (above right) was brought in as the new head coach. Slick was another Hoosier legend, having played on an NCAA championship team at Indiana University. Under the fiery Leonard, the team went 42-27 the rest of the way, and won the Eastern Division by 1 game over Miami. ABA MVP Daniels (24 ppg., league leading 16.5 rpg.) led the way. In the playoffs, the Pacers rallied from a 3-1 deficit to beat Kentucky. Next, Miami was defeated in 5 games. The Oakland Oaks beat the Pacers 4-1 to win the second ABA Championship, but the Pacers were gaining momentum.
The 1969-70 season was the greatest in team history. Featuring the solid quartet of ABA originals Brown, Daniels, Lewis, and Netolicky, plus backcourt help in NBA veteran John Barnhill and popular rookie Billy Keller from Purdue University, they rolled to a 59-25 regular season record. They won their second straight Eastern Division crown by 14 games over Kentucky. The team set an ABA record for points in a 177-135 win against the Pittsburgh Pipers.
The Pacers then rocked through the playoffs with a 4-0 sweep of Carolina, a 4-1 dismissal of Kentucky, and a 4-2 ABA Finals win over the upstart Los Angeles Stars. Brown dominated the Finals series, averaging 32 points (including unstoppable games of 39, 45 & 53 points) and 10 rebounds. The "Rahjah" was a second team All-ABA choice (23 ppg., 7.4 rpg.) along with Netolicky (20.6 ppg., 10.7 rpg.), while Daniels was first team All-ABA for the third consecutive year (19.7 ppg., 17.6 rpg.).
Roger Brown (above left, #35) Mel Daniels (above middle and right, #34) and Freddie Lewis (right, #14) dominated opponents during the 1969-70 season.

In the 1970 ABA Finals against the Los Angeles Stars, Brown simply carried the Pacers to the title. In Game 4 in Anaheim, Brown scored an ABA Playoff record 53 points, including seven three-pointers. And in Game 6 at the LA Sports Arena, Brown scored 45 points to help the Pacers end the hard-fought series.

(Photos © John Oznick and used with permission)
For the 1970-71 season, the team was placed in the Western Division. With the same core group of players, plus highly touted Purdue rookie Rick Mount, the team won the West with a 58-26 record, beating their new division rival, the now Utah-based Stars, by one game. It was Indiana's third straight division title. In the Playoffs, the Pacers lost to the eventual ABA Champion Stars in a hard fought seven game Western Division Finals. Brown made first team All-ABA for the first time (20.6 ppg., 6.9 rpg., 4.8 apg.). Daniels took his second ABA MVP award (21.0 ppg., league leading and team record 18.0 rpg.).
For 1971-72, the team added yet another local star in George McGinnis, a 6-8" 235 pound blend of power and finesse, who left Indiana University after his sophomore season. His addition to the Pacers, along with rookie F-C Darnell Hillman, made the Pacers as deep and talented as anyone in the ABA. After a disappointing 47-37 regular season, the Pacers made a spirited playoff run to capture their second ABA title. The Pacers avenged their playoff loss to Utah in 1971 by finishing off the favored Stars in a tough seven game series in the Western Division Finals. The New York Nets and Rick Barry were the Pacers' Finals opponent, and it took only six games for the Pacers to finish off their second title in three years. Oddly enough, the champion Pacers failed to land any players on the All-ABA team for the only time in their history.
The team entered 1972-73 with only slight changes. Netolicky and Mount were both sold, and ABA All-Star Donnie Freeman was added to the backcourt. McGinnis became a major force in the league (27.6 ppg., 12.5 rpg.), and against the Dallas Chaparrals on November 28th, he scored a team-record 58 points. Once again, the Pacers finished second to Utah during the regular season. But, once again, they won the ABA Championship with an incredible playoff run. For the 4th straight year, the rival Stars were met in the playoffs. This year's version was a 4-2 Pacer win. The Pacers' other main rival, Kentucky, would be the ABA Finals opponent. The seven game "I-65 Series" was a classic, including protests, brawls, and an eventual Indiana victory in Game 7 in Louisville, 88-81.
Two mainstays of the back-to-back ABA Champion Pacers were guard Roger Brown (above left, #35), forward Darnell Hillman (above center, #20), and the "Baby Bull" George McGinnis (above center and right, #30).

In the 1972 ABA Finals, Brown matched the Nets' Rick Barry shot for shot, and came out ahead. In the 1973 ABA Finals, Hillman matched up against Kentucky's Dan Issel, and provided some much-needed rebounding power. The young McGinnis was just coming into his own, with fantastic boardwork and his patented one-handed jumperl.

Of course, coach Slick Leonard (in huddle at left, directing McGinnis and Mel Daniels) always managed to raise the Pacers' level of play by playoff time. Championship banners (seen in background) became a yearly expectation at the Fairgrounds Coliseum.
The Indiana Pacers in 1973-74 were the ABA's first 3-time Champions, as well as the first back-to-back Champions. McGinnis continued to dominate (25.9 ppg., 15.0 rpg., including a team record 37 rebounds against Carolina on January 12th). As McGinnis' star was shining brightly, those of Brown, Daniels, and Lewis were finally starting to dim, as all had below average seasons. The Pacers finished second behind Utah. After winning over San Antonio (4-3) in the Western Division Semifinals, the Utah Stars would be the Pacers' playoff nemesis for the 5th straight year. The Pacers lost in Game 7, after coming back from a 3-0 deficit. The five playoff series with the Stars produced 3 series of 7 games, and 2 series of 6 games, including many classic games.

1974-75 brought major changes to the team. The Pacers moved to the new downtown Market Square Arena. An era ended as ABA originals Brown, Daniels and Lewis were all traded. McGinnis carried the increased load, earning co-League MVP honors with Julius Erving. McGinnis probably had the best season in Pacers history, leading the league in scoring (a team-record 29.8 ppg.), finishing 5th in rebounds (14.2), 3rd in assists (6.3), 2nd in steals (2.61), and 4th in 3-point FG Pct. (.354). Rookies Billy Knight and Len Elmore joined veterans Keller, Hillman, and an improving Don Buse (who shared the backcourt with Kevin Joyce) to give the Pacers a new look. Although Indiana only finished in third place during the regular season, McGinnis dominated in the playoffs. "Big Mac" averaged 32.3 pts., 15.9 rbs., and 8.2 assists in 18 games. San Antonio and George Gervin were upended 4-2. Then, the Denver Nuggets and their gaudy 65-19 regular season record were shocked by the Pacers in the Western Division Finals, 4-3. The Pacers' Cinderella ride ended, however, as Kentucky finally won an ABA Championship with a 4-1 ABA Finals win.
The summer of 1975 brought even more changes. As solid as they had been, the team (like all ABA teams) had financial difficulties. McGinnis jumped at the large amounts of money offered by the NBA's New York Knicks and Philadelphia 76ers, and left the Pacers. His number 30 would eventually be retired by the team. In the ABA's final season, Billy Knight helped to keep the team competitive, and made the All-ABA First Team (28.1 ppg., 10.1 rpg.). Buse continued to improve, setting ABA season records with 689 assists and 346 steals. The team's 39-45 record was the only sub-.500 finish other than the first season. The Pacers made the playoffs as they did every year of the ABA. Their first-round mini-series was a rematch with the defending champion Colonels. The Pacers lost, 2-1. During the summer of 1976, the Pacers, along with Denver, San Antonio, and New York, finally joined the NBA.
During the ABA's last two years, several Pacers had to step up their play to keep the team competitive.

Darnell Hillman (above left, #20) used really big hair and tremendous leaping ability to intimidate opponents. He had career years in 1974-75 and 1975-76, playing both forward and center.

Billy Knight (above middle, #25) signed with the Pacers out of Pittsburgh. In his rookie year (1974-75), he took the league by storm, averaging 17.1 points and 7.9 rebounds per game. In his second year (1975-76), he improved dramatically on both of those figures, averaging an incredible 28.1 points and 10.1 rebounds per contest.

Don Buse (above right, #10) had a great shot, but always preferred to concentrate on his playmaking and defensive skills. During the 1975-76 season, he averaged 4.1 steals and 8.2 assists per game -- leading the league in both categories.

And Billy Keller (right, #11) continued his hard-nosed defense and amazing knack for timely three-pointers in close games.
The Pacers have never quite repeated their ABA success in the NBA (though they made it to the NBA Finals following the 1999-2000 season, losing to the L.A. Lakers). The Pacers' ties to the ABA remain strong to this day. Bob Leonard and George McGinnis do TV/Radio work for the team. Mel Daniels and Billy Knight also work with the team. Bob Netolicky, Billy Keller and many others are still visible locally. Trainer David Craig is still with the team, all these years later. The legend of the Pacers continues to grow, and it still lives with the 3 retired jerseys and three ABA Championship banners hanging in Conseco Fieldhouse today, over Reggie Miller, as he shoots another ABA-style three pointer, for the 3-time ABA Champion Indiana Pacers.
Pacers ABA Fan Memories (Part 1)
Pacers ABA Fan Memories (Part 2)
Pacers ABA Fan Memories (Part 3)
In 1975 the war of words between the ABA and the NBA was heating up. In a quote that appeared in Sports Illustrated, the Celtics' Red Auerbach said that Pacers' coach Slick Leonard was a "bad coach when he was with Baltimore in the NBA and he must be a dog now too." Auerbach also said that "Julius "In January 1976, Dan Pattison interviewed Leonard to get his reaction to Auerbach's comments.
The summer of 1974 was a time of drastic change for Indiana. The Pacers traded franchise mainstays Mel Daniels and Roger Brown, and signed some promising but untested rookies, like Len Elmore and Billy Knight. After much uncertainty, superstar George McGinnis was signed to a new contract. Read about the rebuilding of the Pacers in Dan Pattison's article McGinnis Signing Completes Pacers' Transitional Summer.
The Indiana Pacers made it to the ABA Finals 5 times, and were crowned as ABA Champions 3 times. But the memories of some ABA Pacers fans have very little to do with statistics or MVP performances. Read "Memorabilia from the Heart" by Rita Lillpop Such to find out why.

Pacers 1967-69
Road Uniform

Pacers 1969-71
Home Uniform

Pacers 1969-71
Road Uniform

Pacers 1971-74
Home Uniform

Pacers 1971-74
Road Uniform

Pacers 1974-76
Home Uniform

Pacers 1974-76
Road Uniform
---

PACERS ABA YEAR-TO-YEAR RESULTS
1967-68 Season
Record: 38-40, Third Place in Eastern Division
1968 Playoff Results:

1968 Western Division Semifinals vs. Pittsburgh Pipers (54-24)
Pacers lost series, 3-0
---

1968-69 Season
Record: 44-34, First Place in Eastern Division
1969 Playoff Results:

Eastern Division Semifinals vs. Kentucky Colonels (42-36)
Pacers won series, 4-3

Eastern Division Finals vs. Miami Floridians (43-35)
Pacers won series, 4-1
ABA Championship vs. Oakland Oaks (60-18)
Oaks won Championship, 4-1
---

1969-70 Season
Record:59-25, First Place in Eastern Division
1970 Playoff Results:

Eastern Division Semifinals vs. Carolina Cougars (42-42)
Pacers won series, 4-0

Eastern Division Finals vs. Kentucky Colonels (45-39)
Pacers won series, 4-1

ABA Championship vs. Los Angeles Stars (43-41)
Pacers won Championship, 4-2
---

1970-71 Season
Record: 58-26, First Place in Western Division
1971 Playoff Results:

Western Division Semifinals vs. Memphis Pros (41-43)
Pacers won series, 4-0

Western Division Finals vs. Utah Stars (57-27)
Stars won series, 4-3
---

1971-72 Season
Record: 47-37, Second Place in Western Division
1972 Playoff Results:

Western Division Semifinals vs. Denver Rockets (34-50)
Pacers won series, 4-3

Western Division Finals vs. Utah Stars (60-24)
Pacers won series, 4-3

ABA Championship vs. New York Nets (44-40)
Pacers won Championship, 4-2
---

1972-73 Season
Record: 51-33, Second Place in Western Division
1973 Playoff Results:

Western Division Semifinals vs. Denver Rockets (47-37)
Pacers won series, 4-1

Western Division Finals vs. Utah Stars (57-27)
Pacers won series, 4-2

ABA Championship vs. Kentucky Colonels (56-28)
Pacers won Championship, 4-3
---

1973-74 Season
Record:46-38, Second Place in Western Division
1974 Playoff Results:

Western Division Semifinals vs. San Antonio Spurs (45-39)
Pacers won series, 4-3

Western Division Finals vs. Utah Stars (51-33)
Pacers lost series, 4-3
---

1974-75 Season
Record: 45-39, Third Place in Western Division
1975 Playoff Results:

Western Division Semifinals vs. San Antonio Spurs (51-33)
Pacers won series, 4-3

Western Division Finals vs. Denver Nuggets (65-19)
Pacers won series, 4-3

ABA Championship vs. Kentucky Colonels (53-31)
Colonels won Championship, 4-1
---

1975-76 Season
Record: 39-45, Fifth Place
1976 Playoff Results:

First Round Mini-Series vs. Kentucky Colonels (46-38)
Colonels won series, 2-1
---

1976-77 Season: Merged into NBA
Record: 36-46, Fifth Place in Midwest Division
Failed to qualify for playoffs

Back to Main Page
The off-site news articles which are mentioned above are copyrighted by their respective authors, newspapers, and news organizations.