July 12, 2015: When Lloyd "Pinky" Gardner published his first book about the Kentucky Colonels in 2011 (just look to the right), he didn't expect to publish another one. But then he found out that longtime Colonels photographer Mark Gordon kept all of his precious slides and negatives of Colonels action.
Pinky's new book is a showcase of over 400 over these photos.
Mark's ABA action photos span the period of the 1970-71 season all the way through the end of the 1975-76 playoffs. They are mostly black & white, but there is a special color section as well. These photos cover longtime Colonels favorites like Artis Gilmore, Dan Issel, Louie Dampier, Wil Jones, Wendell Ladner and and Ron Thomas. But they also show fantastic game action of other ABA legends, like Rick Barry, Julius Erving, Mel Daniels, Roger Brown, Marvin Barnes, and Zelmo Beaty. Plus, there are some fantastic locker room, celebration, and background shots from the Colonels' 1975 ABA Finals victory. And, a variety of photos from ABA vs. NBA exhibition games, where the Colonels took on the likes of the Golden State Warriors, New York Knicks, Baltimore/Washington Bullets, and Milwaukee Bucks.
All of the photos are captioned by Pinky to provide some background and history. If you are an ABA fan, "Kentucky Colonels - Shots from the Sidelines" is a gorgeous 224-page coffee table-quality book that you will enjoy from cover to cover. If you want to buy a copy of the book, just e-mail Pinky for purchasing information. Let him know you learned about the book from Remember the ABA. He'll be glad to sell you an autographed copy.

March 25, 2014: 38 years after their final game, it is high time for a Virginia Squires official reunion. The "Virginia Squires Last Stand" Reunion Event will be held May 1-2, 2014 in Virginia Beach, Virginia, and is open to the general public. Julius "Dr. J." Erving, George Gervin, Jim Eakins, George Irvine, Fatty Taylor, Cincy Powell, Charlie Scott, Doug Moe, Dave Twardzik, Ray Scott, Neil Johnson, Barry Parkhill, Ray Scott, Mack Calvin, longtime coach Al Bianchi, and numerous other Squires players and personalities have committed to attend.
Many Squires players had little or no opportunity to interact and reminisce with their fans after they were traded from the team (a common occurrence) or the team disbanded. So all of the players are looking forward to this event. The reunion will consist of several events. On the evening of Thursday, May 1, there will be a Legends Reunion/VIP Reception. Tickets are $75 per person and the contact person to purchase tickets is Kirk Levy at (757) 965-5027, or KBLevy@Sykesbourdon.com. On Friday, May 2, the Virginia Squires Business Appreciation Golf Tournament will be held at the Virginia Beach National Golf Club during the day. More information can be found at the Virginia Squires Last Stand Facebook page, located here.

October 5, 2013: ESPN's "30 for 30" documentary series has touched on many sports stories and topics, but never the ABA - until now.
Catch "Free Spirits" on the ESPN flagship network this coming Tuesday, October 8 at 8PM ET. Free Spirits tells the story of the Spirits of St. Louis - from the emergence and antics of all-star Marvin Barnes, to their rookie radio play-by-play announcer Bob Costas, the team's incredible 1975 playoff upset of the defending champion New York Nets, and the unbelievable financial deal that the Spirits' owners made at the time of the ABA/NBA merger in June 1976 (otherwise known as the "Best Deal in Sports").

Eight-time Emmy winner Dan Forer produced and directed the feature. He scoured the archives for Spirits video footage, photos, and period interviews, many of which have never been seen before. If you miss the premiere of Free Spirits on October 8, the feature will be available for download on iTunes on October 9, will be released on Blu-Ray/DVD later this year, and will be replayed on various ESPN channels in the future.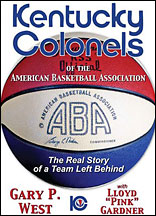 Lloyd "Pinky" Gardner was the longtime medical trainer for the ABA's Kentucky Colonels. In 1976, when the ABA finally gave up the ghost, Pinky saved a variety of Colonels uniforms, photos and historical items from the trash. He also happened to save some unforgettable memories of the team and the league itself.
If you're interested in the history of the Kentucky Colonels and the ABA, you must check out the book Pinky has written along with co-author Gary P. West. This book was no small effort to complete - it has 352 pages of interviews, memories, and photos, mostly centering around the Colonels franchise. You'll get inside first-hand information about Louie Dampier, Ziggy, Penny Ann Early, John Tong, Mike Storen, Darel Carrier, Dan Issel, Artis Gilmore, Hubie Brown, and just about every other personality connected with the team from 1967 to 1976. Pinky's year-to-year memories are especially interesting. They demonstrate all the highs and lows of working for a pro basketball team in a struggling league. Overall, the book provides hours of fascinating material for any fan of the Colonels or the ABA. If you want to buy a copy of the book, just e-mail Pinky for purchasing information. Let him know you learned about the book from Remember the ABA. He'll be glad to sell you an autographed copy.
Most of you ABA and Denver Nuggets fans know that David Thompson's autobiography "Skywalker" was published in 2004. It's a great read. However, many of you may not be aware of the amazing David Thompson documentary film ("Skywalker - The David Thompson Story"). The film was produced by Rick Clemens at TriMotion Films. It aired on the College Sports Television cable network earlier this year, but is now available on both DVD and VHS. If you are an ABA fan, or just a Denver Nuggets fan, you should see this documentary. There lots of ABA photos (some from Remember the ABA). There are a few ABA video clips. You will also see numerous post-merger photos and video clips of D.T. (with the Nuggets) slamming dunks home over helpless opponents. They really searched the archives for these - many of the photos have never been published before. And, most of the video clips have not been seen since they originally aired the 1970's.
Larry Berman was the official photographer for the New York Nets during their later ABA years (1974-1976). His Erving and other Nets photos (several of which are used on this web site) are absolutely spectacular. If you're looking for an 8x10 print of Dr. J, or various other ABA stars (including Moses Malone, George McGinnis and Artis Gilmore), check out Larry's Erving/ABA photo galleries at www.bermansports.com. Larry has some special price rates available for Remember the ABA visitors.
I've uploaded a few ABA game action screensavers (Dampier/Erving, McGinnis, Issel/Beaty) and four Remember the ABA promotional posters (Big Hair, Pittsburgh Condors, John Brisker, and Only in the ABA) to the ABA Discussion Group page. The promo posters were recently created by the Cramer-Krasselt ad agency on a pro bono basis (thanks to David Yang and Michael Herlehy).
In 2000, Remember the ABA was nominated for a "Webby" Award in the category of best sports web site. Four other sites were nominated in the same category: espn.com, foxsports.com, quokka.com, and sportsjones.com (pretty stiff competition). Thank you to all of you who have helped to place this site in such elite company (you know who you are!).
The famous slam dunk contest held at halftime of the 1976 ABA All-Star Game was one of those serendipitous decisions that was typical of the ABA, a maverick league that seldom planned anything too far in advance. It was an act born of desperation, but desperate times demand desperate measures. And the ABA was in decidedly desperate times. Read all about the dunk contest in Michael Murphy's comprehensive article about the ABA: "The ABA Way"
In honor of San Antonio's 1999 appearance in the NBA Finals, the CNN/SI web site posted a color photo essay on the red, white and blue league. Each of the photos (11 of them) appeared in Sports Illustrated from 1970 to 1976. Check out Artis Gilmore dunking in the Pittsburgh Civic Arena against John Brisker and the Condors.