30 Year ABA All-Time Team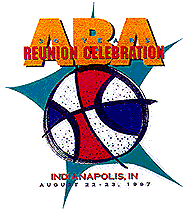 Below are the 30 members of the ABA All-Time Team. The entire group was honored at the ABA Reunion in Indianapolis on August 23, 1997. As you can see by the voting, several players just missed the cut.
The voting results also include the ABA's All-Time MVP and All-Time Coach.
Voters included 50 people, including former ABA sportswriters, ABA Radio Announcers, ABA Referees, ABA Executives, and knowledgeable ABA fans. The voting group included 2 former ABA Commissioners, 6 former ABA Team Owners, and 10 former ABA Referees. The most prominent sportswriters included Rudy Martzke, Peter Vecsey, Jimmy O'Brien, Bill Benner, and Bob Costas. No ballots were accepted from former ABA players.
The 30 Year Team includes many career ABA players as well as some players that only had brief stays in the league (but went on to have long and significant careers in the NBA).
American Basketball Association All-Time Team
(* denotes a unanimous selection)
Rick Barry
Louie Dampier *
Dan Issel *
Bob Netolicky
Marvin Barnes
Mel Daniels *
Warren Jabali
Billy Paultz
Zelmo Beaty
Julius Erving *
Jimmy Jones
Charlie Scott
Ron Boone
Donnie Freeman
Freddie Lewis
James Silas
Roger Brown
George Gervin *
Maurice Lucas
David Thompson
Mack Calvin
Artis Gilmore *
Moses Malone
Willie Wise
Darrel Carrier
Connie Hawkins
George McGinnis
Billy Cunningham
Spencer Haywood
Doug Moe
ABA League MVP--Julius Erving
All-Time ABA Coach--Bobby "Slick" Leonard
---

ABA All-Time Team Voting:
Marvin Barnes: 23
Rick Barry: 39
Charles Beasley: 1
John Beasley: 4
Zelmo Beaty: 42
Byron Beck: 12
Art Becker: 1
Ron Boone: 35
John Brisker: 16
Larry Brown: 19
Roger Brown: 50
Don Buse: 12
Joe Caldwell: 16
Mack Calvin: 41
Larry Cannon: 2
M.L. Carr: 1
Darrel Carrier: 24
George Carter: 3
Jim Chones: 1
Steve Chubin: 1
Glen Combs: 3
Billy Cunningham: 36
Louie Dampier: 50
Mel Daniels: 50
Jim Eakins: 1
Len Elmore: 1
Julius Erving: 50
Donnie Freeman: 30
Gus Gerard: 1
George Gervin: 50
Artis Gilmore: 50
Gerald Govan: 1
Cliff Hagan: 3
Ira Harge: 1
Jerry Harkness: 1
Connie Hawkins: 40
Spencer Haywood: 34
Art Heyman: 2
Wayne Hightower: 1
Darnell Hillman: 8
Les Hunter: 2
George Irvine: 1
Dan Issel: 50
Warren Jabali: 24
Stew Johnson: 4
Bobby Jones: 19
Caldwell Jones: 14
Jimmy Jones: 27
Larry Jones: 13
Rich Jones: 3
Steve Jones: 18
Wilbert Jones: 2
Billy Keller: 21
Larry Kenon: 17
Billy Knight: 16
Wendell Ladner: 11
Bo Lamar: 1
George Lehmann: 1
Freddie Lewis: 38
Jim Ligon: 1
Gene Littles: 1
Maurice Lucas: 26
Moses Malone: 30
Ed Manning: 1

Ted McClain: 1
George McGinnis: 44
Bill Melchionni: 11
Larry Miller: 1
Doug Moe: 35
Gene Moore: 1
Rick Mount: 5
Swen Nater: 8
Bob Netolicky: 35
Johnny Neumann: 3
Tom Owens: 1
Billy Paultz: 30
Cincy Powell: 6
Red Robbins: 18
Dave Robisch: 6
John Roche: 2
Charlie Scott: 29
Les Selvage: 1
Don Sidle: 1
James Silas: 30
Walt Simon: 2
Ralph Simpson: 17
Willie Somerset: 1
Levern Tart: 6
Brian Taylor: 8
David Thompson: 28
George Thompson: 7
Dave Twardzik: 1
Chico Vaughn: 4
Bob Verga: 4
Tom Washington: 1
Charlie Williams: 2
Chuck Williams: 2
John Williamson: 19
Willie Wise: 32
MVP Voting:
Mel Daniels: 2
Julius Erving: 46
Artis Gilmore: 1
Connie Hawkins: 1
All-Time Coach Voting:
Bob Bass: 1
Al Bianchi: 1
Hubie Brown: 4
Larry Brown: 6
Bobby Leonard: 34
Babe McCarthy: 2
Bill Sharman: 2

Back to Main Page