By DAN PATTISON
BELLEVUE -- Willie Wise was indescribable.
Wise, 50, faced every bizarre situation, while playing for the American Basketball Association's Utah Stars, and met the challenge.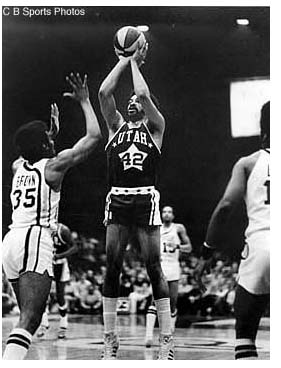 And you have to believe there were a lot of bizarre situations which came up during his ABA career, both on and off the court. No matter what Wise did, the 6-foot-5 ABA All-Star would always greet people with his contagious smile. He embodied the heart and soul of the game. He loved to play. His unbridled energy made everyone around him feel better about themselves.
It's actually hard to believe that Willie is 50-years old. There was always a boyish charm inside him reaching out to us. Courting our respect.
For example, one snowing December afternoon in New York (1972), a day which Wise was celebrating because his friend, O. J. Simpson, had rushed for a record-breaking 2,000-yards against the New York Jets. And, of course, his team had defeated the Nets at the Long Island Arena. The Stars' team bus driver had driven the bus too far underneath the carport of the hotel entrance.
The bus driver was afraid to move the bus for fear of doing damage to the carport. But Wise responded. He backed the team bus away from the carport. No damage. And Wise received the cheers, ala a standing ovation, from his Stars' teammates. Wise jumped out of the driver's seat, and greeted his teammates with his infectious smile.
Work done. And the challenge accomplished.
It was just like his on court endeavors. Knowing Willie, you couldn't help but love him. He played the game, because he loved it. His boyish zeal in a man's body was something that overcame any shortcomings. And Willie had little of those.
"Willie came to play," explained former Indiana coach Bobby Leonard. "And that meant we had to play him. No one did the things he did on the court. He might have been the best two-way player the ABA ever had. By being a two-way player, I mean he came to play at both ends -- offensively and defensively.
"I actually think he liked playing defense more than offense," added Leonard. "That's trait you don't acquire. That's just plain desire. You have to love the game to want to do that type of dirty work. But he did. His matchups against Roger Brown were some of the best the league ever had. I always loved Willie Wise. I wish he had played for me."
Umh . . .that's saying something coming from your biggest rival's coach.
At the same time, Leonard was right.
"My first and only goal coming into the ABA was to be a great defensive player," explained Wise. "I loved playing defense. It was always a challenge to see if I could stop guys like Rick Barry, John Brisker, and Roger Brown. But I didn't like to think of myself as the best defensive player in the league. That's because when I started to think about that I might have let down."
Wise never let down.
And he never wanted to call attention to himself. But his efforts grew into legendary proportions. Sports Illustrated did an article on Wise saying he was the best two-way performer in pro basketball. Others followed.
With his efforts offensively, he would carry the Stars on his back for stretches at a time. Wise would always look to what the team needed at the time, and quietly go about accomplishing that. He always put the word -- "We" -- and not "I" in his game. Whenever Wise chose to do that, he would do quite economically, never wanting to shoot more than 20 times a game. He shot 57 percent.
Three times in his Stars' career he averaged over 20 points per outing for the season.
"What really made it so enjoyable playing for the Stars were that the entire team was so team oriented. Everyone just wanted to win. That's why I loved playing there. I had such great teammates. We won one ABA championship. But my only regret was that we didn't win more. We should've. There is no question about that. But the fans in Utah were always great to me. It was mutual respect. Believe me."
Offensively, Wise had both an inside and outside game. Sometimes, after watching game films, he would shake his head, and utter to himself, "Did I do that?"
"Wonderous Willie," a longtime Stars' broadcaster, the late Bill Howard called him, was never in awe of himself.
For example, last August, at the ABA's 30th Reunion in Indianapolis, Wise said to me, "There's 'Dr. J" (Julius Erving). I wonder if he will remember me?"
Wise had just been chosen to be among the 30 best ABA Players in the league's history, and still was in awe of Erving and others.
Said, Willie: "I always thought of myself as a lunch-pail type player. I never was really gifted. At least, that's the way I feel. I just worked hard. I always thought if I was going to make it at the professional level, it would come, like I said before, from my defensive play. But with Bill Sharman coaching our team, he really helped me with my offensive skills. Still, I didn't think I belonged in their class."
Wrong.
Not only did Erving remember him, but he praised him.
"Willie Wise was one of the toughest competitors I ever played against," said Erving. "He came to play every night. I really respected him. Willie was one of those players that the NBA fans never had a chance to see the best he had. That's because Willie was injured a lot when he played in the NBA. That was a shame. Willie Wise had game. A great game."
And former Pacer star George McGinnis echoed the same sentiments about Wise. "The best thing I can say about Willie is that he had game," McGinnis pointed out.
McGinnis had many looks at Wise's game. Maybe, too many.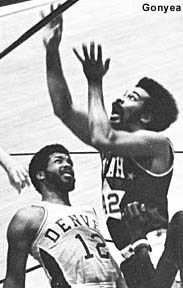 In the deciding game of the ABA's Western Division Playoffs, 1974, Wise retreated from his offensive skills, leaving that effort to Jimmy Jones, who scored 35 points, and attempted to stop Big George, who at 6-foot-8, 255-pounds was the ABA's answer to Karl Malone. Willie held him to nine points, and the Stars won the right to meet Erving's New York Nets for the ABA championship, losing 4-1 in the series.
"I don't recall," responded Wise.
"I do!" I said. Thus bringing a huge smile and laughter to Wise's face.
Still, losing to the Nets in that championship series was unfortunate in many ways for the Stars. They, not only lost the ABA championship series, but it was the last time Zelmo Beaty, Jones, and Wise would ever play again together on the same court.
It was very costly.
"It hurt me to see a player like Zelmo Beaty, who at one time the Stars were billing as the franchise, get treated the way he did," said Wise. "I knew if they would treat Zelmo that way, because he was in the twilight of his career, that none of us were safe. Then, the way they treated Jimmy Jones, who I think was one of the top five guards in basketball at that time. My biggest regrets in pro basketball was losing them as teammates. It just really hurt me. We were very close. They really helped me, not only on the court, but as a person.
"Zelmo was my mentor. He taught me everything about the game. But most of all, he taught me how to be a professional. You remember when we were up by nine against Indiana in game seven (1971), before we went on to win the ABA championship against Kentucky, I was joking around at the foul line after I was fouled, Big Z walked over to me and said, 'Willie act like a professional. Make these foul shots.'
"You just knew Zelmo was all business, and it carried over to the rest of the team. We still only live five minutes from each other. And I try to e-mail something to Jimmy every day. Yes, we're into the 21st century in accomplishing things. We're just hoping that someday we can get Gerald Govan to join us.
"But," Willie laughed, 'that might be pressing it."
What hurt Wise is that when Stars' owner Bill Daniels sold the club to Jim Collier, all the former wanted to do was sign try to sign the prep star Moses Malone. And Collier forgot what Beaty had meant to the Stars' franchise. He let him go to the Los Angeles Lakers, and didn't pickup the option on Jones' contract.
The franchise was in chaos the fall of 1974. And so was Wise emotionally. He reported to camp, which was at Randolph Rich High School, and actually played some exhibition games, but it wasn't the same for him. The hurt ran too deep. Then, at the Stars' annual press and picture day, "Wonderous Willie" vanished. Never to return again.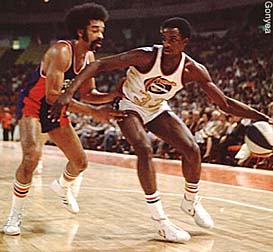 Wise finally ended up playing for the ABA's Virginia Squires, a team much like the Stars, in utter chaos. Among his new teammates was former Utah Ute star Luther "Ticky" Burden. But the Squires's roster had long been gutted, leaving them without two future hall of famers -- George Gervin and Erving, and another excellent player, Swen Nater.
That franchise was in such chaos that Wise became an interim player-coach until he was able to talk his old friend, Zelmo, to coach the final two months of the season. Still, Willie was never able to wake up the echoes of his past glories. There was no escaping his original hurt. Finally the business aspects of the game reared their ugly heads, and his knee injuries caught up to him.
He later played in the NBA for the Denver Nuggets and Seattle Sonics, but it was never the same for him. Basketball had become a business for him. Not a game.
His zest for the game left him.
Wise retired and went into a business venture for himself . . .something he always wanted to do -- drive a truck. A big truck. He started his own truckline. But business ventures in the 1980s were very harsh.
"The economics of the 1980s proved to be my undoing," Wise pointed out. "I lost my shirt. Now, I'm just a driver. And I'm loving it. I always wanted to be a truck-driver. I'm just part of the work force. I am very happy with my life."
Wise is the father of five. And you might ask, does he have any athletes among them?
"Yes, I do, but I'm trying to discourage them from playing the game," asserted Wise. "Basketball is hardly a game in the purest sense anymore. It's too violent. And that thing with Latrell Sprewell has really turned me off. I hardy ever get to a pro basketball game anymore. It's just different for me. I don't live in the past. And I don't want any of my kids feeling any undue pressure to have to play the game.
"Don't get me wrong," added Willie. "I still treasure my memories, especially of playing for the Utah Stars, and of course, with my teammates. What we accomplished as a team, winning the ABA championship (1971) has never left my heart. But I don't want to dwell on them. I want to open my eyes to other things, and accomplish new goals. But most of all, I want to be the best father I can be. I don't want my children to ever do without."
That in itself, with all the dangers gripping the teenagers growing up in today's world, with all their peer distractions, etc., is quite an accomplishment for Willie Wise. And knowing Willie Wise, he will accomplish his goal.
Note: DAN PATTISON was an ABA columnist for Basketball Weekly, The Sporting News, and The Deseret News. Dan was also the vice-president of the ABA Sports Writer's Association for two years.
Dan passed away in June 2001 after a brave battle with bone marrow cancer. He will always be remembered for his longtime support of his "magnificent obsession": the ABA.

Back to Main Page