By DAN PATTISON

Another city, another story -- Mullaney patching the Sounds (column written in January 1975)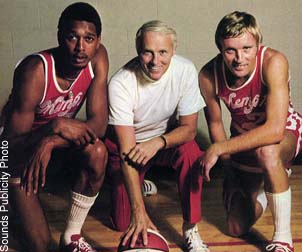 (MEMPHIS) When Joe Mullaney was introduced as coach of the Utah Stars through much of last season, the Salt Palace crowd booed lustily.
Mullaney was often criticized -- by fans, the press, even at times his players.
The critics can rest easy now. Mullaney is gone. He rejoined his old friend -- Mike Storen -- at Memphis. And if Storen and Mullaney can turn the Memphis fortunes around, those boos Mullaney has been used to hearing not only with Utah, but Kentucky, too, will turn to cheers. Maybe even a 21-gun salute.
Memphis has been the eyesore of the ABA. Former owner Charlie Finley ran the club like it didn't exist. Memphis fans treated it the same way. And the players played like they couldn't wait for the season to end.
The Memphis Tams were the worst club in the league last year. Their record -- 21-63 -- proves that point.
Enter Storen. He gave up his ABA Commissioner post to get back to his first love -- managing a franchise. Mike became a part owner of the club and right away he started moving bodies.
Only guard Larry Finch, the former Memphis State standout, remains from last year's debacle.
"The team looked like an expansion team," Mullaney explained. "We had seven guys left. Most teams starting out have a base of 20 players. We had only seven.
"We had to wheel and deal, but we didn't have much to deal with. Generally, people don't just sell you players. Trades have to be made and people don't like to trade with last place people.
"We lost key people like Jones (Wilbert, who went to Kentucky) and Thompson (George, who signed with Milwaukee) left and Denton (Randy) wanted to go to Italy, before he ended up with Utah.
"And we don't have that kind of money to just buy the great players."
But Storen and Mullaney were able to pull of a major deal by purchasing ABA all-star center Mel Daniels and trading Charlie (Razor) Edge for guard Freddie Lewis. They also signed Roger Brown, who played with the Pacers for seven years, before selling him to Utah.
When Mullaney left the Stars, he also took Rick Mount with him. For Mount and Mullaney, this is their third club in as many years.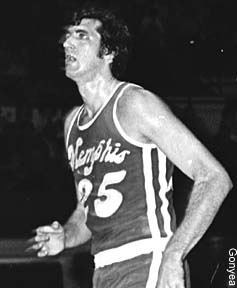 Mullaney and Storen finally traded Lewis to the Spirits of St. Louis for Tom Owens (right, #25). Owens has been a plus for the Sounds, the new Memphis tag.
"Fortunately for us, Freddie was playing well," Joe pointed out. "We needed him to get Owens. We need Owens. Where would we be without him?
"That's a catch for us. I feel the guy will play some ball for a few years. With Mel's injury (he had torn muscles in his stomach and later hurt his back by falling in a bathtub)."
Mount's injury also hurt the club. The 6-4 former Purdue All-America had gotten off to his best start (21 points per game) since turning pro five years ago. He fractured his collarbone. He isn't expected back until mid-January.
"We've been getting good press," Joe continued, "but we haven't helped ourselves the way we've played."
Coaching Memphis is a far different world than coaching such clubs as the Los Angeles Lakers, Stars and Colonels for Mullaney. He had all three clubs in the finals.
"If I look at the newspaper, I know where we are," offered Joe. "But it's no different coaching-wise. I still get mad at the same things."
All Mullaney wants to do is coach. He doesn't care if it's Timbuctoo. He pictures his clubs as a mirror of what he's trying to put across. He believes in team defense and patterned offense.
His offense drew the boos in Utah and Kentucky, where the people grew up knowing run-gun free lance offense. And with the case in Utah, people just never accepted Joe as a coach. Who is this guy from the East telling us how our teams should play?
In a one-one-one situation, talking his favorite sport -- basketball -- Mullaney is a great guy. He just didn't have time for small talk the way westerners do.
Now Mullaney has a chance coming into a losing situation to prove himself as a coach. But to most inside basketball people, Joe doesn't have to prove anything.
People have come to expect Mullaney's clubs to start slowly and be polished at the season's end. The Memphis fans are hoping that's the way it will be this year.