By DAN PATTISON

The Secret Life of James Silas (column written in March 1976)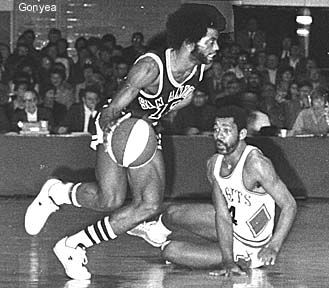 (DENVER) The ABA's best kept secret is San Antonio's guard James Silas. Living in obscurity is a way of life for him.
The 6-1, 185-pound guard was a two-time All-America at Stephen F. Austin. Stephen F. Austin? No one is sure yet whether that is a college or someone who just died at the Alamo. It hardly rings a bell like a UCLA, Indiana, Maryland, Kentucky, North Carolina, etc.
But while Silas was there, the little NAIA Nacogdoches, Texas school was a power. His senior year, Stephen F. Austin was 29-1 and he averaged 30.7 points per outing. "No one heard of Stephen F. Austin even though we had a good team," Silas pointed out. "I think scouts should look to NAIA schools more.
"There are good players in the NAIA who don't even get a chance. Coming out of the NAIA hurts a guy. If you have a big name like a Travis Grant or Elmore Smith (both former Kentucky State stars), it doesn't hurt you. But it has hurt others. There is no recognition. The bigger schools get the ink and television exposure. I thought I was as good as anyone I read about. I always thought I was as good as the big college guards. Now, I'm getting my chance to prove it."
But playing with the Spurs in the ABA, Silas is back where he started -- living in obscurity. The ABA has no television exposure and hardly captures the national headlines. The only headlines it has corralled lately is the sinking or staying afloat of the Virginia franchise after three other franchises folded this season.
It doesn't seem to bother Silas, though. "I'm happy with our league," he offered. "We have a lot of fine talent. The television thing is not important to me. It would be nice for people around the country to see our talent, though. I feel they're being cheated."
Silas is in the position he is -- an ABA All-Star -- because the late James Harrison (Babe) McCarthy, in the waning days of the old Dallas franchise, took a chance on him. Silas, who was drafted by Houston in the fourth round and no one in the ABA, was placed on waivers by the Rockets prior to the 1972-73 season. He cleared waivers by the NBA and Babe picked him up in late November.
"I'll always appreciate what Babe did for me," Silas pointed out. "I always respected him. But I can't say the same for Houston. I felt like they knew they were going to cut me all along. But they waited until before the first regular season game. By that time, most of the rosters were stable. They should've let me go earlier to get on with someone else.
"I'm happy now. They say to try not to look at the past. I had never been cut by a team. It was humiliating at the time. That's the only regret I have now. They also made me a free agent. If the ABA was to go under, I don't know what team would pick me up in the NBA."
But Silas (who hails from Tallulah, Louisiana, the same hometown as Washington's James Jones), wouldn't have any trouble finding employment. He has developed into a standout.
It seems like he plays the "Good Humor Man" three quarters of a game -- keeping the likes of Larry Kenon, Billy Paultz and George Gervin happy -- and then he takes over the game in the fourth quarter. As a matter of fact, he has earned the tag "The Late Mr. Silas," because he wins so many games in the closing moments.
"When you've got guys like Gervin, 'Mr. K,' and Paultz on your team, they're stars," he pointed out. "I try to get them into their game. I don't want to take away from their game. I've got to keep them happy and I've got confidence in my game that I can do it. We've got the type of offense, which is a passing game. You beat your own man and get open and then all I do is find them. Since I've been with the team, that's been my job.
"When Don Freeman (he is with the Los Angeles Lakers this year) was with us last season, he didn't want the ball. he was our shooting guard. The same with Gervin this year. He doesn't want the ball. Some of the guards are smaller and quicker than Gervin and that presents a problem for him."
Spurs' coach Bob Bass likes Silas to have the ball down the stretch, too. It's not unusual for The Late Mr. Silas ( "I don't like the tag, but sportswriters have freedom to say what they want") to score 20 points in the final quarter. He has done it several times this season. For three years of pro ball, he is averaging 17.3 points and 4.0 assists. This season, Silas is averaging 22.9 points and 5.3 assists per game. His highs are 46 points and 13 assists in games this year. He had a 35 point, 13 assist game against Denver in the new McNichols Arena in December.
Pass the word, though, the NAIA has given pro basketball another gem in the likes of Earl "the Pearl" Monroe. That's The Late Mr. Silas, who doesn't mind living in obscurity.