By DAN PATTISON
Red Robbins: "The Big Easy"
It's rather amusing or symbolic that Austin "Red" Robbins lives within the shadows of New Orleans, only a stone's-throw (or one of Mark McGwire's towering blasts) from the city of Metairie, Louisiana.
For they call New Orleans the "Big Easy."
And there is no better way to describe Robbins, himself, than the "Big Easy."
There was no one more fierce on the basketball court than the 6-foot-8 former Tennessee All-American. He accepted every challenge with aplomb. The ultimate team player, a garbage man underneath the boards, using his long arms, pointed elbows, and gaining position on every shot to grab his rebounds.
That was Robbins.
But Red also was a realist, both on and off the court. He always wanted to live a very simple life. Nothing confusing. He accepted life's burdens, not wanting to complicate his life. The youngest of eight children, growing up in the small town of Groveland, Florida, with a population estimated at, like Robbins says, "Oh, around 1,500 people. But who's counting?"
That was also Robbins. . .just taking life easy.
Growing up, with his six brothers, and two sisters, never wanting for the materialistic things in life. He always accepted what came with the true values of life . . .love, health, and lasting friendships.
Actually, Robbins doesn't look at the Utah Stars' American Basketball Association's 1971 championship as the greatest thing that ever happened in his life.
"Don't get me wrong," said Robbins. "I'll always cherish that championship. It was the greatest season and accomplishment I ever achieved in my pro career. That seventh game against Kentucky was the greatest game that I ever participated in in my life."
Still, it wasn't the greatest day in his life. His greatest day came, Oct. 16, 1970, the day after the Stars won their first league game in the Salt Palace against Pittsburgh.
That's the day he flew back to New Orleans and whisked Janie Maher to the altar to become his bride.
"The good Lord must have been watching over me when Janie came into my life," he pointed out. "That was 27 years ago. Life couldn't have been better since then. She's not only my wife, but she's been my best friend in life, too."
And that's Robbins keeping everything in perspective. Indeed, that speaks volumes about him. And it fits right in with his basic philosophy of life.
Robbins only played two years with the Stars. But his Salt Lake City fans loved him. He was one of the most popular players to ever play for the Stars.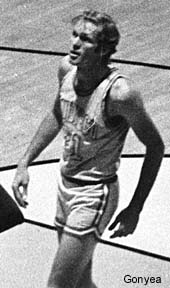 "Letting Robbins go in the expansion draft to San Diego (1972) was one of the worst gambles and mistakes I ever made as a general manager," admitted former Stars' President/General Manager Vince Boryla. "Red was the ultimate team player. I didn't realize how much he meant to the team's chemistry, either.
"I always respected his ability as a player. But I respected him even more as a man. He never complained about anything. He was great for the city. We would send him out to every charity event. He always accepted everything we asked of him. He accepted pro basketball as a business. What a great attitude he had, too.
"There was nothing pretentious about him. What you saw with Red was always real. He dealt with realities. He and his wife, Janie, have always remained great friends to me. That's saying an awful lot about him and his wife, too. That's because to this day, I don't go out of my way to make and keep friends with people who have played for me."
The five-time ABA All-Star was originally drafted by the Philadelphia 76ers in the 1966 NBA draft. But, like Boryla pointed out, Robbins dealt with realities. And the reality was that the 76ers had Wilt Chamberlain, Lucious Jackson and Chet Walker on their frontline, with Billy Cunningham coming off the bench.
"It might have boosted my ego at the time," mused Robbins. "But in reality, I knew they didn't want me. They did contact me by sending me a $9,000 contract. Other than that, I didn't even send it back. Nor did I hear from them.
"I played in Italy that year. When I came back, they offered me $9,500. It's like $500 was going to make a difference? No way. The money wasn't the problem. I knew that I just didn't fit in with the team."
But in 1967, the newly formed ABA offered him a shot with the New Orleans Bucs. "I took their offer and I've never regretted it," explained Robbins.
The Bucs' offer brought about his eight-year ABA career, with teams like the Bucs, Stars, San Diego, and Kentucky. But most of all, it gave him a chance, not only to play pro basketball, but to meet his lifelong companion, Janie Maher, a New Orleans native.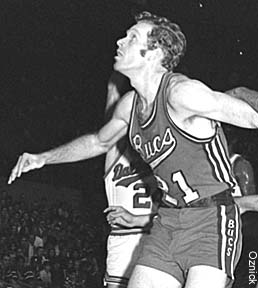 "What was so attractive about playing in New Orleans was the friendliness of the people. I loved playing here," added Robbins. "We had some great guys on our team back then, too.
"Larry Brown, Doug Moe, Jimmy Jones, and Jackie Moreland were not only good players, but great guys, and our coach, Babe McCarthy, became such a great friend of mine. It was easy to see why Brown (the current 76ers coach) became such a great coach.
"He was like a coach on the floor. He was a great point-guard and he just flat out ran the court. You really had to be in shape to keep up with him. He was a court creator. And that was what the ABA was all about -- creativity.
"That's what made the ABA so much different than the NBA. It was its creativity both on and off the court. The ABA allowed the black players to wear their Afros. The ABA allowed its players to be creative.
"The ABA players were allowed to bring the street game to the court. The ABA kept up with the times. The NBA didn't. It was like ABA players were protesting against the established NBA -- just like what was going on in society at the time," continued Robbins. "Society in the real world was protesting and demonstrating against the establishment and the Vietnam War.
"That's why the ABA was so appealing for me. It wasn't the protesting against the establishment, but the creativity of the league. You can see where the NBA adopted the ABA's three-point shooting line, and until this year, all the pregame activities of the NBA's All-Star Game came from the ABA.
"Things like the slam dunk contest were adopted from the ABA (where a slam dunk contest was held between Julius Erving and David Thompson at the 1976 ABA All-Star Game in Denver) and became so attractive for the NBA. The ABA owners promoted the game much more than the NBA at that time, too.
"And one more thing, all NBA teams, including colleges, are now using shootarounds on game days. Where did that come from? Bill Sharman started using it in the ABA with the Stars. I hated it, but it got us up in the morning to focus on the game that night. The shootarounds became successful, because of our success.
"And you know, what is successful for one coach is usually adopted by another coach. As much as I hated those shootarounds, I still feel it wasn't too much to ask from a player who is supposed to love the game. When you think about it, I think that's a major difference between the game today and the game back then. We loved the game more. Today, it's motivated more by money than the love of the game.
"I don't think the players today have a sense and the awareness of the sport's history. I watched the NBA All-Star Game last year. The league celebrated its 50th anniversary. But I don't think that some of today's stars even realized who Bill Russell, Bob Cousy, Bob Pettit, Chamberlain, Sharman, and others, who were named to the 50th Anniversary team, were. It's all about money. That's what drives the players today." And that's Robbins again, dealing in life's realities.
Surely, money isn't what drove Robbins to achieve his pro basketball success. He signed a contract with New Orleans for $13,000 his first year, and his top dollarwise contract was $48,500 in his last season in the ABA, with Kentucky.
"Money is all relative," he explained. "My $48,500 contract would be worth around $120,000 today. But I thought it was a good living back then. I never complained. I haven't been an extravagant person. Janie and I saved our money. We live comfortably. Friendships and the love of the game were the things which drove me in my career.
"I am just happy to have had a pro basketball career and to have been a part of the ABA's history. By playing basketball, I got an education and an opportunity to see the world. I would never complain. But at the same time, I don't dwell on my pro basketball career. I'm 53-years-old now and that time is behind me now. I'll never forget it. But that isn't what makes my world go around now, either."
What Robbins might like to forget is the fact that he always showed up for the big games. Against Indiana, in the decisive game seven of the 1971 ABA Western Division Championship, Robbins scored 11 straight points in the second quarter to lead the Stars to a come-from-behind victory and into the championship series against Kentucky. His production was economical. He made 10 of his 11 shots.
During the 1970-71 regular season, Zelmo Beaty went down with a knee operation, and Robbins moved into his center position. He led the Stars to an eight-game winning streak.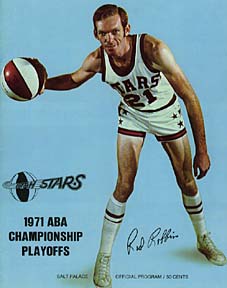 "That season," Robbins says retrospect, "was perfect. Everything went right for us. What was so great for me is that I was able to play with greatness in the form of Big Z. He was such a great example for us. He was certainly 'The Franchise.' He had a no-nonsense attitude about him and it carried over on the court. He really set the tone for our club.
"Everyone knew their roles. I knew my role was to play defense first, and rebound. I was able to pick up some garbage around the basket to score. But we had such great shooters, like Willie (Wise), Ron (Boone) Glen (Combs), and Big Z. So I really never went out of my way to be a scorer. I wasn't needed in that role (he averaged "only" 12.2 points and 9.5 rebounds per game).
"To win a championship, you have to be lucky, too. By that I mean you have to have the right team chemistry. And you can't have players who suffer prolonged injuries. We were fortunate. Merv (Jackson) missed a couple of games in that Kentucky series with a knee injury. But he was ready to play in the final game.
"One more thing, the way the series went, we won it, 4-3. That's because we had the home court advantage. So, you can see what I meant about luck."
But luck comes from just old fashioned hard work, too. The Stars had the home court advantage because they had a better record than Kentucky during the regular season.
Since retiring from pro basketball in 1976 (he played his last season in Italy), Robbins owned and operated three athletic shoe stores for eight years. He also worked as a sales person or rep for Champion Sports. And now, he works for LA Logo Sports.
"And," quipped Robbins, "I like where my office is -- at home!"
He has a history with the NBA Jazz, too. Like Ron Boone today, he was Rod Hundley's sidekick for New Orleans Jazz radio and TV broadcasts for two years.
Red has always had a great sense of humor about him. The quick witted Robbins could a shred a person and bring him to tears within a New York-minute. But wouldn't do it. That's because he always had a sense of awareness of people's feelings around him.
But in concluding his interview, he laughed, "'Dirty Dan' this has been a great time talking to you. But you're going to write what you want about me anyway. That's what you always did." And that's just Robbins again, too.
Note: DAN PATTISON was an ABA columnist for Basketball Weekly, The Sporting News, and The Deseret News. Dan was also the vice-president of the ABA Sports Writer's Association for two years.
Dan passed away in June 2001 after a brave battle with bone marrow cancer. He will always be remembered for his longtime support of his "magnificent obsession": the ABA.

Back to Main Page