By DAN PATTISON

Billy Paultz -- Shedding an Image (column written in April 1976)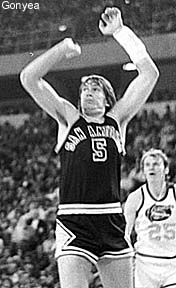 (DENVER) Billy Paultz lost 20 pounds last summer in attempting to shed an image.
His teammates at New York didn't call him 'The Whopper' for nothing. The 6-11 center pounded the Nassau Coliseum court last season with 265 pounds. His added weight added more pressure for Julius (Dr. J) Erving as far as coach Kevin Loughery was concerned.
"We asked the Doctor to do too much for us last season," asserted Loughery. "He was our leading scorer and rebounder. He got the rebound, triggered the fast break and was at the other end for the layup. By the time the playoffs came, he was too tired. That's why we felt we needed a change."
The change Loughery was speaking of put Larry (Mr. K) Kenon and Mike Gale in San Antonio uniforms for Swen Nater. With Nater in a Net red, white and blue uniform, Loughery felt he no longer had the need for Paultz, either. So Paultz joined his old friends -- Kenon and Gale -- for Rich Jones, Chuck Terry, Kim Hughes and Bobby Warren. Warren was later traded to San Diego for Tim Bassett.
"We felt we gave up a lot to get Nater," said Loughery after the trade, "but sometimes you have to do that in order to get something. In Nater, we feel we're getting the best rebounder in the league (Swen did average 17 takedowns per outing last year). We sorely needed to get the Doctor some up front rebounding help."
But Loughery made a major mistake. At the time he traded for Nater, the 6-11, 250-pound former UCLA Bruin was in a cast from knee surgery. And Nater never did respond with the Nets and Loughery, who ended up with Hughes in the middle. One New York sports wag wrote, "Not even 17,000 screaming fans can wake up Swen Nater."
And Loughery said at the All-Star break after trading Nater and Billy Schaeffer to Virginia for Jim Eakins, "I just couldn't get anything out of Nater. Maybe, (Zelmo) Beaty can. But I couldn't. It could've been my fault as much as his, though."
Meanwhile, Paultz had opened up his second "Salty Dog" nightclub on Long Island. There was only one problem -- he was never around to run his two spots. He is off in far away San Antonio having his greatest season.
"I'm a little quicker, I guess," said Paultz of his loss of weight. "I'm blocking more shots (he's leading the ABA) this year if that's an indication. The trade actually wasn't a definite thing until September. I was going to camp with a loss of weight and a good attitude no matter which camp I was in.
"The trade was in September. That was the time to worry about it. But that's gone. I want to concentrate on winning games and playing well now for the Spurs."
Country living in San Antonio is a far cry from the sidewalks of New York City, where he grew up and later starred at both St. John's and helped the Nets to the ABA championship in 1974. "That's true. It is a bit different," said Paultz. "The weather is what I appreciate the most in San Antonio. It makes you want to get outside for a clean breath of air. In New York, you're shut in for the winter."
Paultz didn't take an amateurish view of the trade. He's made the most of it. And it could possibly give him another championship ring this season. 'The Whopper' is averaging 17 points and 10.5 rebounds per outing.
"I'm thankful for what the Nets did to me," asserted Billy. "They did me a favor. I'm better off financially (he had to approve the trade and renegotiate his contract) and I'm playing with a good bunch of guys."
With Paultz, Kenon and young Mark Olberding up front and James Silas and George Gervin out back, Spurs coach Bob Bass has probably the most talented group of starters in the league. They are not only good, but youth is on their side, too.
The former St. John's star offers the Spurs good leadership inside. He is a good outside shooter, has a superb hook shot and sets up a pick as well as any center in the league. His biggest weakness stems from the fact he doesn't stop anyone on defense. His weight loss has helped him there, though, too.
Maybe, with Paultz, hindsight is better than foresight. In other words, the Nets might have been better off keeping 'The Whopper."
"That's a shame about Nater," adds Paultz. "I don't know the situation for him in New York. In Virginia, he'll get more time and he should be the player we think he is."
But Paultz should worry about only one thing -- the image he is shedding.