By DAN PATTISON

Has Big A decided enough is enough? (column written in April 1975)

(Salt Lake City) Artis Gilmore....
Indiana's George McGinnis says, "If he could sustain his intensity, he'd be unbeatable. Guys take advantage of his personality and push him around knowing he won't push back. Maybe if he had a few fights and knocked a few people around, it would be a different story."
Artis Gilmore....
Peter Carry, of Sports Illustrated, says, "Artis Gilmore is perhaps too much of a gentleman to play in the ABA."
Maybe enough is enough...
Has Kentucky's gentle giant changed?
The 7-2, 240-pound center engaged in fisticuffs with Spirits of St. Louis rookie Maurice Lucas three weeks ago. Lucas punched him and buckled his knees. But big Artis didn't back away. He was ready. And it's hardly in Artis' gentle, soft-spoken nature to be a pier-sixer.
The change has been subtle, not one that fans outside of Louisville would notice right away.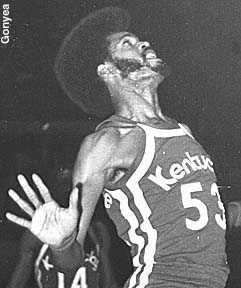 Gilmore has always been a dominating force in the ABA since his rookie year (1971-72). That year, he averaged 23.8 points (the fourth rookie in pro basketball to go over 2,000 points) 17.8 rebounds, topped the league in field goal percentage (.598) and blocked 422 shots.
He was both the ABA's Rookie of the Year and Most Valuable Player.
Actually, if an owner was starting a franchise in the ABA, that owner wouldn't start with New York's Julius Erving and McGinnis (and that's not to demean their talents) but with Gilmore. Artis is that much of a force.
The former Jacksonville All-American has changed his mental approach to the game. But why? Or how? In two words, Gilmore responds, "Hubie Brown."
"Hubie's knowledge and concept of the game has really helped me," admits Gilmore. "He's got me moving much more. We've got patterns we're running that might be stopped at first, but we still have many options which go to me after that.
"And," Gilmore adds, "maturity and experience does help considerably. All pros rely upon it. I'm hoping the knowledge I've picked up in the past will be very beneficial."
Brown, the first year Kentucky coach, took some slaps at the start of the season for not posting Gilmore in his usual low right box and getting Dan Issel his shots. "Even though Hubie took the rap for Dan's struggles, our offense is based on everyone getting equal shots," Artis points out.
"Coaching is kind of tough. You have to sympathize with Hubie. He's trying to keep everyone happy. He has a tough job getting everyone ready to play, distributing the shots, time, and having everyone involved."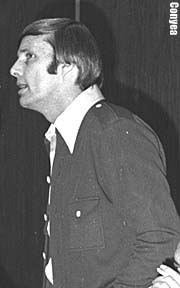 "We lived through a difficult time with Dan," Hubie offers. "But he woke up. He's getting the same number of shots he did before. I took a real slap in the face from one sports writer.
"But the big horse has only improved his shooting percentage. That's the difference."
Hubie is happy with Artis' progress this season. "His progress has been tremendous," says the former Milwaukee Bucks assistant coach. "What we are asking from him is to move low, high and even come out to the wing area. That's something new.
"He used to just post up in the right low box. That's what he did in high school, college and in the pros. We've shown he's a lot more mobile (23.8 points, 16 rebounds).
"From a coaching standpoint, not all of it can come immediately. It's still going to take him a couple seasons. But he works hard, takes criticism and wants to learn the facets of the game that are going to make him a better player.
"We have concentrated on offense with him, but we still haven't neglected his defense. With big men, like him, too, they like to be given blows. So we give him a two-and-a-half minute break at the end of the first, second and third quarters.
"We ask him to play the entire fourth quarter. He's very cooperative. He listens, accepts criticism, and his growth has been tremendous since Sept. 15th."
"It's helped me to cut down on my time," says Artis in reinforcing Hubie's theory. "I feel better about it, and it's especially going to help me down the stretch."
Gilmore is a compassionate person. The first thing he did when the Colonels signed him was take his mother, Mattie, to the dentist. His father wanted a truck. Artis bought it for him. His parents never had those things.
And he works with underprivileged kids during the summer. Artis never forgets his background. His father didn't work, unless you call it work going fishing for something to eat. And his mother had all she could handle with eight children.
That's his past. He lives for the future.
"I feel very confident we're going to be successful this year in the playoffs," asserts Artis. "It's going to be tough and take much work.
"I'm satisfied and confident in our offense. That's the one thing that's going to bring us through."
And maybe, the big "Gentleman" thinks enough is enough.