By DAN PATTISON
BELLEVUE, Washington -- Actually, Zelmo Beaty Jr. would have preferred to be a carpenter. But being a legendary pro basketball player had to suffice.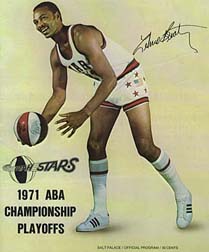 As a boy in Hillister, Texas, Beaty dreamed of becoming a carpenter.
"I always wanted to be a carpenter. I'm not kiddin'," explains the 6-foot-9 Beaty. "I've always loved to work with my hands. You can always look back at the end of a day, and look at your fruits of accomplishment. I have always respected people who work in carpentry and use their hands to build things."
When you sort things out, Big Z accomplished both.
The former Utah Stars' center hand-crafted a legendary basketball career in which he was named the American Basketball Association's 1971 Playoff MVP, became a three-time all-pro player, averaged 19.1 points and 11.7 rebounds in four seasons with the Salt Lake City team, and most of all, led the club to the 1971 ABA championship.
In his 12 years of playing pro basketball, Beaty led his teams -- the St.Louis/Atlanta Hawks, the Utah Stars, and the Los Angeles Lakers -- to 11 playoff appearances. He finished his career with a 17.1 points and 10 rebounds per game average. That in itself a tremendous accomplishment. For every time Beaty stepped on the court, he was at a disadvantage.
Big Z always had a lot of great players looking over their shoulders at him. He faced up to all the registered giants --7-2 Wilt Chamberlain, 6-10 Willis Reed, 7-1, Walt Bellamy, and 6-9 Bill Russell, etc. When you look at his career, it's like looking into the soul of the man. He had immense pride. Extraordinary desire. His efforts always cried out for respect. He was like a boxer. He always answered the bell.
And that wasn't exactly easy, either. Not only was he undersized, but he suffered through nine knee operations. He was, and even in his retirement, a great example for youth, and the ultimate professional. His professionalism has carried over into his retirement, where the former Stars' great fulfilled his desire to be a carpenter by building his own home for himself and his wife, Ann, in the upscale Pikes Peak area of Bellevue, Washington, amid the trees and rolling hills. It has the charm of living in a woody area in a canyon. The home captures its natural surroundings. The magnitude of the home seems like the crowning touch for the man his Stars' teammates called, "The Franchise." The house can be called in one word "magnificent."
Beaty should be able to enjoy the fruits of what life has brought him through his accomplishments.
"I want to make this clear. . . Zelmo could flat play!" says former rival coach Bobby "Slick" Leonard, ex-coach of the Indiana Pacers. "If you went to war against him, you better pack a lunch, because you knew your team was always going to be in a battle with him. And you knew you were going to be there awhile. He wasn't going to hide.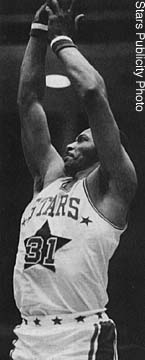 "He was always up for the challenge. I know our guy (Mel Daniels), who was about four years younger, learned an awful lot from him. But leave those textbooks home! You had to learn on the job against him. When he jumped from the NBA to the ABA (1970-71), Zelmo brought a sense of toughness with him.
"He was a banger! He was not only physically tough, but mentally tough, too," added Leonard. "But at the same time, he played the game with dignity and grace. His play demanded respect."
A curious thing happened to start his NBA career.
Beaty, who played at an all-black college of Prairie View A&M (located in Texas), was the No. 1 player selected in the NBA in the 1962 draft. "I shocked a lot of people when I selected him as the No. 1 player drafted," explains NBA scouting guru Marty Blake, who was the general manager of the St. Louis Hawks back then. "Everyone was saying, 'Are you nuts? What have you've been smoking?'
"But I'll you something, a lot of the scouts weren't making the effort to see the black colleges back then. I knew the player I was getting. First of all, he could play. But he also knew how to win."
For Blake, picking Beaty was a master stroke. That's one reason why Blake is considered one of the best judges of talent in the NBA today. That same year, Leonard was the player/coach with the Chicago Zephyrs, and chose the NCAA's leading scorer that year, Utah's Billy McGill.
A year later, the Zephyrs moved to Baltimore and are now called the Washington Wizards.
And while being the No. 1 player drafted today makes the player an instant millionaire, what kind of loot was put in Beaty's wallet?
"I was signed for $15,000!" chortles Beaty. "Actually, the most I ever made for one season with the Hawks was $30,000. It wasn't until the ABA came into existence that even the NBA players had a bargaining chip in signing contracts. That's when the players started to have some leverage in their contract negotiations.
"That's what happens in business. Once you have the power to negotiate with another valuable business entity, it's going to drive your contract price up. It's simple economics. I eventually made good money for the times when I jumped to the ABA. If it wasn't for the ABA, we would have all been in a financial rut.
"I know for a fact that the players nowadays, earning the kind of money they're earning, don't have a sense of NBA history or an awareness about what the players before them did," adds Big Z. "But in fairness to them, I didn't have a sense of history, either, when I entered the league. I had to learn. And now I have a great deal of respect for the players who came before me.
"But I was a union player representative when I was with the Hawks, and a former president of the ABA's Player Association. We worked hard to get a better pension for the players who had played the game before me. It drove me to have a better historical sense about the NBA. And there was a lot of blood, sweat and tears shed before I got into the league, too.
"I don't regret the time I played pro basketball. I don't begrudge today's players. I don't think it's greed. It's just the opportunity of the times. For instance, if someone takes a million dollars and puts it on a shelf and you find it there, it's yours. You're not worried about how it got there. If people tell you it's yours, you're not going to worry about the history of it.
"It's all relative. For example, a car, which I could've purchased back when I first started in the league cost a couple grand. That same automobile would be worth $40,000 today. Nothing ever stays the same. It's a fact of life."
Still, if it wasn't for guys like Beaty, who was willing to put his reputation on the line for the pensioners, there would have been a lot more taxi cab drivers and street sweepers than there were back then.
But that just adds to Beaty's legend.
A fierce competitor on the court, and a voice among the silent majority off the court. He was always a leader among men. That's exactly what his Stars' teammates called him, "The Franchise." He didn't talk trash on or off the court.
He was the ultimate team player. He never wanted to do things which distracted from the game or his teammates.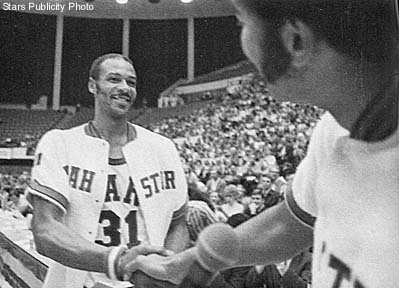 His game wasn't about wasted motion. He ran the court. But his game wasn't about in-your-face stuff shots. Only once, in a game against the Pittsburgh Condors, did Beaty stray from his team commitment. In that game, he scored a Stars' franchise record of 63 points. And that's because his Stars' teammates thought it was a fitting tribute to pass up their shots to get him the record performance.
Big Z never wanted his teammates to do anything outside the framework of the team. But they did. They ran plays just for him.
"I really appreciated that and I still do to this day," says Beaty, still shaking his head in-disbelief, while recalling the game. "It was incredible. It was the team's edict to always go to the guy with the hot hand. I passed up a number of shots early in the game until Willie (Wise) got on me. He hounded me to start taking them. I did."
There is one thing that doesn't escape Beaty's watchful eye about the NBA teams today. Simple rudiments of the game.
"I don't think there are enough teams that run set plays like we used to do," explains the former Utah Star. "The NBA team that I am most impressed with about running plays is the Jazz. They run their set plays to perfection. And for a basketball purist, it's fun to watch. That's why they win. They run their plays over and over again.
They probably have the most team-oriented game in the NBA. That's what sets them apart from the rest of the teams."
Despite his trappings of fame, there is still something that has escaped the charismatic Beaty. And actually, it is sinister. That's his exclusion from pro basketball's Hall of Fame.

Beaty did more than just play the game. He was a pioneer. A man for all seasons in Salt Lake City. Back in the 1970s, Salt Lake City was getting a bad rap regarding African-Americans. Beaty and Ann showed the rest of the world that blacks could live and survive in the city. When the Stars and Beaty took their show on the road, Beaty told the national press and media about how well he and his family were being treated.
He was a goodwill ambassador for the state and city. He commanded respect just by the way he carried himself. The fact he was the team's best player didn't hurt, either.
"There weren't any lights or cameras when Zelmo played the game," Leonard points out. "By that I mean that there wasn't the television or cable TV that there is today. And there were a lot of players of that time, and even before my time, who are forgotten. When it comes to the Hall of Fame, Beaty falls into that category. People might have just forgotten what a competitor he was. That's not right. But baby that's life, too."
And life isn't always fair.
Beaty doesn't dwell on the subject. It isn't like a cloud is hanging over his head because he isn't in the Hall of Fame.
"It would be nice . . .but," laments Beaty.
He and Ann enjoy the life his handicraft has bestowed upond them. He is a financier and a substitute school teacher. Big Z has never been one to let the grass grow under his feet, either. The 58-year-old still works out with weights, and enjoys a tennis match with his wife.
And that's not bad given the humble Texas trappings in which he started--dreaming of someday becoming a carpenter. When one mentions Big Z's name, it is still linked with greatness. He still wears the crown of one "who could flat play too."
Note: DAN PATTISON was an ABA columnist for Basketball Weekly, The Sporting News, and The Deseret News. Dan was also the vice-president of the ABA Sports Writer's Association for two years.
Dan passed away in June 2001 after a brave battle with bone marrow cancer. He will always be remembered for his longtime support of his "magnificent obsession": the ABA.

Back to Main Page