Rick Barry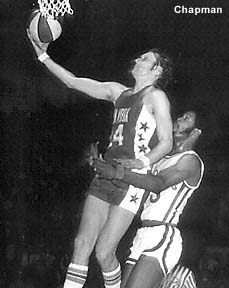 While driving home from a New York Nets' game one night, my wife, Kathie remarked, "I'd hate to play Scrabble or Hearts with Rick Barry. If you beat him he'd probably overturn the board or shove the cards down your throat. I never saw a guy so tough on himself."
Credit Kathie with keen perception. Barry, at his best, is his own worst enemy -- only in a different way. He simply never satisfies himself, is always critical of his performance after a game, and hates to lose.
To believe Barry you'd think he never plays up to his true ability -- he's been bothered by leg ailments in recent years -- but, at times, it's hard to imagine anybody playing better than Barry does. Single-handedly, he often wins games.
For years, Barry has been the ABA at its absolute individual best. In the beginning, he was the young league's leading big-name star, and perhaps had an influence on others following suit and signing on with the upstart pro basketball circuit.
Bill Sharman, who coached Barry at San Francisco of the NBA, when he was rookie of the year during the 1965-66 season, averaging 25.7 points per game, and then the league's leading scorer as a second-year player in 1966-67 with a 35.6 average, can't say enough about Barry:
"This far in his career," says Sharman, "I would have to rank Rick as the greatest and most productive offensive forward ever to play the game. I think he's better than Elgin Baylor, Bob Pettit, Paul Arizin and Dolph Schayes, and they were all tremendous performers.
"Not only is he a great shooter, but he's one of the game's finest passers. He hits the open man when he's double-teamed, which is often, and runs the pick and roll, setting up his teammates for easy layups, better than any player I've ever seen.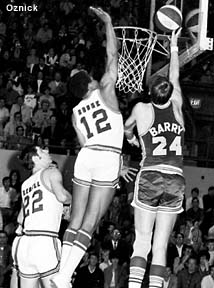 "He has to be the quickest 6-7 player the game of basketball has ever seen. He's awfully hard, if not impossible, to match up against defensively. He beats a bigger opponent with his quickness and goes over the little man. He is unstoppable going to the basket on a one-on-one situation and is usually successful one-on-two.
"I would have to call him super, super on the fast break. He can penetrate, make the basket and draw the foul better than anyone. He has great body-balance and body-control He has all the shots -- the hook, jumper, fade-away, set and the layups with either or both hands.
"He's an intense competitor, whether it's basketball, golf, checkers or anything else (maybe Scrabble or Hearts, Kathie) -- he just doesn't want to lose. He's one guy I never had to worry about being up for a game."
Enough said?
Then, too, consider some of Rick's achievements in the ABA:
He was named to the first-team for all-league honors each of his four years in the league. He averaged nearly 30 points a game over that same span, and during the 1969-70 season with the Washington Caps, he averaged 40.1 points in seven playoff games. In the inter-league all-star game, he topped the ABA with 20 points.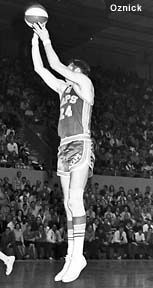 "I'm not a good shooter," says Barry. "I'm a scorer, that's all. I'm a good shooter but I can't stand outside all night and pop in 50 per cent of my shots. A good shooter is someone like Jerry West. If I had to have someone outside to shoot an important basket I'd have West do it."
Richard Francis Denny Barry III is too much. Born in Elizabeth, N.J., just across the river from New York City, he's back home in a way, as he once hoped he'd be. As an All-America at the University of Miami, and the top scorer in the NCAA ranks, 37.4 average, he hoped he'd be drafted by the New York Knicks.
Someone in their organization said Barry was too skinny, and wouldn't be able to withstand the pro punishment, and they passed him up in favor of Bill Bradley of Princeton.
He signed with San Francisco instead, fell in love with the Bay Area, and never thought he'd be going East again. He jumped the Warriors after two seasons of stardom for Oakland of the newly-formed ABA, where Rick's college coach and father-in-law, Bruce Hale, had just been named general manager. He did it for the best possible reason: $50,000 more per season on a five-year contract, apparently including stock options.
He says he wound up losing money on the deal -- the stock turned into worthless paper-but that's the way the red, white and blue ball bounces in the world of high finance. "I've suffered by moving," he said, "but it hasn't been that bad. Compared to other people, I can't complain."
The Oakland franchise failed despite Barry after two years and one ABA title -- in the second year when Barry became eligible to play after sitting out a season on the option year of his NBA contract -- and was sold to Washington, D.C. interests.
Barry balked about moving to Washington, and immediately signed another five-year contract with the Warriors, effective in 1972.
The franchise was a flop in Washington, as well, and it was going to Virginia for the following season -- the ABA's fourth -- where it would be a regional franchise in the manner of the Carolina Cougars, rotating home games among several sites in the state. Once more, Barry became disenchanted with the idea of moving.
To begin with, Barry had dragged his sneakers to Washington, but he was determined not to go to Virginia. He forced a trade by insulting the citizens of the state enough so that management was compelled to get rid of him.
Barry announced that Virginia was a state he'd "always gotten out of as soon as he could," and that he considered it his duty to protect Scooter, his three-year-old boy, from picking up so contagious a disease as a Southern accent. Virginia traded him to the Nets.
It was thought that Barry's best value to the league would be in New York, the media capital of the country. I broke the story that Barry had signed with the Nets in the New York Post. It was the best thing that ever happened to the Nets.
After failing to sign the likes of Lew Alcindor, Jim McMillian and Bob Lanier, it was necessary to get a ballplayer like Barry for the club to compare with the NBA Knicks and their stars, Willis Reed, Walt Frazier, Dave DeBusschere, Dick Barnett and, of course, Bradley.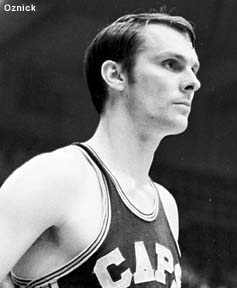 Barry leaned his handsome blond head against a wall in a banquet room at Toots Shor's in mid-Manhattan and listened to the sound of music the day they announced he was the newest of the Nets.
First, Frank Gifford, then Kyle Rote and finally Howard Cosell came into view on the large television screen in the center of the room. Each told their audiences the news that the Nets now had a true super star in Rick Barry.
A man was changing channels to get a segment of each sportscaster's commentary. Each was rich with adjectives, of course, extolling the talents of this young man, who had just turned 26.
Barry beamed. He looked very happy in himself... Rick Barry on Broadway. It seemed right. It would never be like this in Norfolk, and basketball would be fun once again. He was getting his way.
The Nets paid a considerable sum, estimated at $250,000, for Barry, and their No.1 draft choice for the next season.
"If you're going to be any place in sports," said Barry, "New York is the place to be. My interest was at a low ebb when I thought I'd have to play in Virginia, and now my interest has been rekindled. All I want to do is play basketball."
Columnist Larry Merchant took Barry's integrity to task. "It seems," Merchant wrote, "that hardly a day has gone by in the last three years when Rick Barry has not been fast-breaking from one team to another; lawsuits trailing behind him. He is the quintessential modern athlete-gifted, good-looking and corrupted by the business of sports."
Barry blushed when Merchant mentioned all his wrong-doings, then denied that he had done anything wrong.
Jack Dolph, the ABA commissioner, wasn't about to share the sentiments of Merchant. How could he?
"He is three times more important to us in New York than Virginia," Dolph said. That, of course, was because he could generate more news and attention to the ABA there.
"It's like having my cake and eating it," said Barry, who is paid $165,000 a year to play for the Nets.
When Barry was playing in Oakland, he injured his knee and played only 35 games, scoring 34 points a game. The next year, in Washington, he re-injured his knee and again missed half the season.
One of his early experiences as a Net was a broken metatarsal bone, which rendered him useless for the first two months of the season. It still hurts at times. "Well, that's life," he says, reflecting on his recent past.
It seems that trainers have always been hovering over Barry since he joined the ABA. First, it was a knee, then the right foot, then the left ankle. Barry hates to think of himself as brittle. He remembers going through high school, college and his first pro season missing only two games.
He's not always up to par when he plays these days, but no one notices it as much as Rick. It's just another frustration to add to his many. "He's got to be snakebit," says coach Lou Carnesecca.
To add to his frustrations, Franklin Meuli, owner of the Warriors, filed another suit against Barry early in the 1971 season to try and retrieve the blond bomber. This time, Barry doesn't want to go back. The heart he once lost in San Francisco now belongs to Broadway.
Meuli loves Barry. "He made a mistake at 23 and he made it out in front of God and everyone, not in private like everyone else makes theirs," Meuli actually said.
"He's been paying and paying and paying for it. He's been a very unhappy man. I remember one day when I was talking to him on the phone . . . and I told him we had signed the girl Denise Long, whom we had drafted (a gimmick). 'She's a girl Rick Barry,' I said. 'The poor kid,' he answered, and he meant it."
Meanwhile the Nets were filling the Island Garden in West Hempstead, forcing a wall to be knocked down to expand capacity to 6,500, and bigger and better things are expected when they move to the Nassau Coliseum.
All kinds of opportunities were popping up for Barry. He was becoming a big man around town. Channel 7, the ABC station in town, had him doing sports shows, and he did a great job. Modeling jobs came his way.
Certainly Barry is photogenic -- graceful and tall with sculptured features and razor-cut hair that stylishly covers the top of his ears. New York makes up for the trials of the ABA's hinterlands, the small crowds, the lack of national attention, the minor-league label. They're behind both Barry and the ABA now.
It also makes up for those nights on the road in Virginia.
This article Copyright © Jim O'Brien and used with permission

Back to Main Page