"Following The NBA"
by Bill Hirsch
(written in November 1976, shortly after the ABA/NBA merger)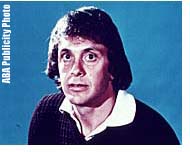 Larry Brown has followed the NBA all his life -- first as a youngster growing up on Long Island, then as a player at North Carolina and in the ABA and, most recently, as an ABA coach. "Every chance I got the last couple years if we were in an NBA city I caught a game, and I watched their games religiously on TV," he said.
Now he's a coach of one of the best teams in the NBA, but his reaction to his new league is not quite what you might expect. "I don't think it's all it's cracked up to be," said the Denver Nuggets coach.
"In some places we've been treated like second-class citizens. I've heard remarks that indicate people think we should be paying our dues this year."
Do these comments come from front-office personnel of established NBA teams?
"The front-office people ought to be thrilled to death we're in the league," Brown said, in reference to his team's drawing power and NBA-leading home-court attendance figures.
"Some referees have said things that upset me. Like 'we don't do things like that in this league.' And one time one of our coaches got a technical and the ref says 'that's a 'T' on whoever you are.' Things like that."
"And look at the NBA Guide. It bothers me the way they've slighted the players and the coaches from the ABA teams. First they raped us to get in, and now this. For example, it says I've got no previous coaching experience. It's funny how all the weak NBA teams pick up ABA players and strengthened themselves, but they still look at us like that."
As Denver makes itself known around the league, hopefully that second-class status will disappear. Brown is doing his best toward that end.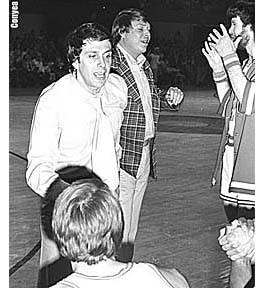 "Every time we come into a new town for the first time, I get the same questions about David and Bobby and Dan. It's gotten so bad I've written a script to answer all the questions because I know what they're gonna be. Seriously, though, I know the press has got a job to do and I'd like the people in these cities to know about our players.
"But, still, some of these guys look at us cross-eyed because I believe a 22-footer ought to be a three-point play and I think the (brown) NBA ball is ugly-colored and hard to get used to."
Despite the ruffled feelings at times, Brown would be the first to admit that going into Boston and New York to meet the Celtics and the Knicks the first time "was a special thrill for me."
"Man, you walk in Boston Garden and see that parquet floor and look up at all those championship banners, it really gets you. And they've got so many uniforms retired up there it looks like a shuffleboard court with all those numbers."
New York's Madison Square Garden is special to Brown since he first started going to games at the 'old' Garden when he was six. " I used to go all the time to see the Knicks. That goes back to when Carl Braun and Bud Palmer (the Colorado [Hockey] Rockies' vice president) were playing. I think Bud led the league in shooting one season."
"I can remember all the Knicks back then-Harry 'The Horse' Gallatin, Sweetwater Clifton, who I loved; Vince Boryla (who now resides in Denver) with the bomb and then later guys like Kenny Sears and Willie Naulls and Richie Guerin. "My favorite player? Dick McGuire, Al's brother, who now scouts for the Knicks."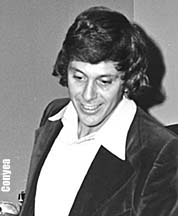 "And do you know something else I really liked about going back to the Garden? Hearing John Condon, their PA announcer, again."
Other cities hold fond memories for Brown, though they rank behind New York and Boston. "I used to play in New Orleans with the (early ABA) Bucs, so it meant something to go back there. I'll have to admit, the Superdome compares favorably to the Loyola University fieldhouse, where we used to play. Cleveland? I played there while I was working for the Akron Goodyear Wingfoots (in the AAU league). I had to punch a timeclock when I went to work there. I still remember it; I was number C111."
Brown also played for the Oakland Oaks and says "I got a great feeling going back to the Bay Area and playing against the Warriors, but we haven't been there yet in the regular season. So that doesn't really count."
Another place he feels good about going is the Forum in Los Angeles. "Heck, Jack Nicholson is sitting four seats away from me. We're getting blown out by the Lakers, I felt like asking him if he wanted to coach for awhile."
This article Copyright © Bill Hirsch and used with permission.

Back to Main Page