CALDWELL JONES MAKING A NAME FOR HIMSELF
by Scott Haebich, ABA Fan Club President (written in March 1974)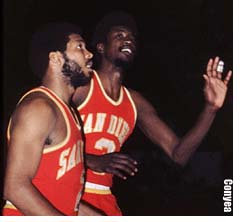 Wilbert Jones knew last June when he was going one-on-one against brother Caldwell (at left, to the right of teammate Warren Jabali).
Wilt Chamberlain knew as soon as he saw him in the Baker League last summer.
The San Diego Conquistadors found out in training camp in September.
And now the rest of the American Basketball Association knows.
Caldwell Jones has supercenter written all over his lanky 6-11 frame.
Within the space of nine months, Caldwell Jones has gone from an unknown no one thought could make the pros to one of the outstanding centers in the league.
"He looks just super," says 6-8 older brother Wilbert, one of the top forwards in the league with the Memphis Tams. "I've been watching him play since last June. We used to go one-on-one and despite his size he is so agile that I had trouble getting away from him.
"He also put on 10-15 pounds to make him stronger and further improved himself by playing in the Baker League in Los Angeles last summer.
"I was really looking forward to seeing him play in the pros. It angered me that people said he couldn't play, but I always knew he could. It hasn't surprised me at all."
Chamberlain, the coach of the Q's, also saw Caldwell in the Baker League and immediately wanted him. "I really liked what I saw," Wilt says. "He was young and inexperienced, but he had the talent."
Now that Caldwell has some experience under his belt, is he pleased with the way his season has gone? "Yes, I'm very pleased with the progress that I've made so far and hope to continue progressing."
He' s hoping that his progress will eventually lead him to his goal of "making the playoffs and being on a championship team." Caldwell also has a long-range goal which is to "make the ABA All -Star team each year of my career."
But for the time being he is still just a rookie, adjusting to the pro schedule. The things he finds the roughest to get used to are "the travel and preparing myself mentally as well as physically for an eighty-four game schedule instead of the usual 25 or 30 games you play in college."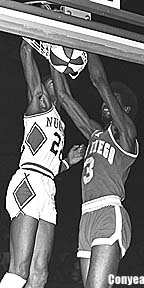 In the San Diego training camp, Caldwell quickly won over his teammates during a two-on-one drill when he dunked over Wilt. He followed that with another dunk up to his elbows over another player. "He can really get up and down the floor, too," said a teammate, knowing that Caldwell is the perfect center for the fast-breaking Q's.
As for Caldwell himself, "All I wanted to do was play, and I didn't care where. I made up my mind in the summer to prove myself ."
He is particularly proud of his dunking ability, although he emphasizes that he isn't trying to outdunk anyone. "They just don't let you dunk in college, so I've been waiting a long time. You have to take advantage of every chance you get. I also like to excite the crowd a little, and it gets me psyched up. I can dunk cradling the ball in my elbow," he says. But defense and blocking shots are his big talents, even against Wil. "Our mother told us to go easy on each other," Caldwell smiles, "but..."
"He's blocked two or three of my shots," 26-year old Wil says of his 22-year-old brother. "I'm just like anyone else on the court. He didn't rub it in then, but I know I'll hear about it next summer. He'll be teaching me now."
It is doubtful that young Caldwell could teach Wil, a five-year veteran, too much about the game. He does, however, have two younger basketball-playing brothers, Major, a sophomore at Albany State and Charles, a junior in high school, who would be wise to heed any advice Caldwell might have for them.
Just what would Caldwell say to young players to help them improve their game?
"I would tell them the same thing people told me: you can be as good as you want to be. You have good facilities, so take advantage of it. It's up to the individual to work hard to learn the game and improve his skills. If you choose to do other things instead of working to improve yourself, it's your own fault when you don't make it and you have no one to blame except yourself."
This article Copyright © Scott Haebich and used with permission.

Back to Main Page