Brett: Any chance we could talk briefly about your time with the Condors?
Walt: Sure.
What did you think of the ABA at the time?
For me, it was an ideal situation. I enjoyed the ABA. I thought it was a fun league. I thought it was a league in which entertainment was just as important as the result of the game, from the standpoint of the players trying to put on a show in addition to trying to win a game.
So you had Julius Erving, who broke in the same year I did, and Charlie Scott, and George Gervin on that Virginia Squires team. You had players like George McGinnis, who looked like he was going to take basketball to another level the way he never used his off hand. You had Mel Daniels, who I think could have been a great center in the NBA. You had an Indiana Pacers team that was really, really good, and a Utah Stars team that was excellent also.
And for me, like I said, it was a dream come true, because I got to play in Pittsburgh, which is my hometown, and I could literally live in my mothers house where I grew up. I'd roll out of bed and walk seven minutes to practice to a place, a gym, where, the Market House, where I used to play as a youngster.
Wow. And you're playing in a professional basketball league.
And the Pittsburgh Civic Arena was probably a six-minute drive. That was in 1971-72. I was drafted by the Phoenix Suns. I tried out with the Suns, but they didn't have any spots available. Jerry Colangelo asked if he could do anything for me, and I think I played well enough to make the Suns, so I asked if he could just maybe put in a word to get me into the camp in Pittsburgh, despite the fact that the Dallas Chaparrals had my rights.
(Laughing) That never seemed to matter much then.
They didn't care. I never heard a word of protest.
You never heard a single thing?
I was drafted in the third round there. That was a pretty decent draft position. That's really strange. I'd like to ask [Dallas Coach] Tom Nissalke why he never pursued that. They were just so badly organized that they didn't really realize that.
I wonder if when they noticed was when you were in the layup line in your first game in Dallas or something.
Well, even then I'm sure they could have made a protest. I guess they didn't think I was worth it.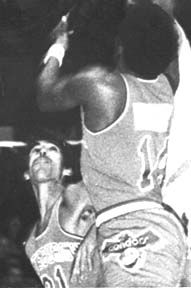 Yeah, you're playing for them.
And then I had that year, and as I said, it was awesome. Jack McMahon was the coach at the time; he's a coach that I really, really liked playing for. He was a player's coach. He made it fun.
The only problem I had was I had to guard John Brisker in practice every day. And he wasn't a very nice person the day after a game, in practice. And he didn't want some rookie who was trying to do his job competing and trying to win some playing time. Even getting within ten feet of him.
So you got a few bruises?
Well, I was hoping the coach or GM would back me up when I was just trying to play defense. But I never got a peep from any of those guys. I was literally taking my life into my hands every time I went out on the court.
Now did you have just one year in Pittsburgh before moving on to…
Unfortunately, I only had one year because the team folded. That was the 1971-72 season. They folded in '72, along with the Miami Floridians.
The fact that the Condors were going down that road, did it mean that you had to live in your mothers house? Based on the fact that you didn't always know if you paycheck was coming through?
The $24,000 I made that year was more than my mother made in six years. So to me, I was the rich guy of Southside. I had no complaints about the money I made. That was more money than I thought I'd see in five years.
Taking a big picture look, what do think is the most significant contribution the ABA made to pro basketball?
I remember the NBA was a very big-guard oriented type of league, a lot of hand-checking, very defense-oriented, not very wide open. What the ABA did is they played a wide-open style game with a lot of transition baskets in which you would see a lot of dunking and fantastic moves.
The NBA was more staid, more halfcourt oriented. If you watched a lot of the NBA games, they had a lot of big bodies, they were very, very physical. So sometimes aesthetically, I don't think it was that great a game to watch. It was fun if you were rooting for your team, like the Knicks days—it was good basketball, but it wasn't circus-like.
From the standpoint of basketball now, people like to see the slam dunks, but there's all tastes. Some people like the purist game. But I would say the ABA introduced the flair back into basketball. And they also had the 3-point shot, which added another twist to the game.
The NBA in the '70s didn't have the 3-point shot, which made for more bruising, inside-type play. The guard play was very, very intensely defended, with hand checking all over the place. So I would say it was like some of the basketball you see now, a lot of halfcourt offense. It's still entertaining; it's basketball, if you like that kind of basketball.
The ABA was more of an uptempo, transition type of league. When they merged with the NBA, with Julius Erving coming into the NBA at that time, he sort of reintroduced that sort of an idea, of trying to make it more spectacular and entertaining, thinking of the spectators who wanted to see—people wanted to see Julius because every game he would do something that they hadn't seen before. That's something that the NBA probably thought they needed.
What do you think is the lasting impact the ABA has on today's NBA, fast-forwarding 30 years? And is it for better or for worse?
The Western Conference, not to stereotype, plays more of an ABA-style game, whereas the Eastern Conference teams probably play more of an NBA-style game, the way they used to play in the 70's. There still are remnants because you still have a lot of ABA people who are in management; you have a lot of ABA people that are still coaches.
It's added variety to the way the NBA could be played. In that respect, I think there's still an influence, especially from the standpoint of the 3-point shot. That can either be a blessing or a curse, depending on what your idea of true, entertaining basketball is.
That's true. A lot of it does start with just you, as the fan. I'm looking up at my red, white and blue model Artis Gilmore basketball, and I became a fan of the ABA after the ABA was long gone…
Where were you from?
I grew up in Chicago. I got the benefit of Artis Gilmore being sold to the Bulls. He was my first basketball hero, yet I have this fascination with the ABA. And I think a lot of people do. Why do we find the ABA so compelling? Is it sheer nostalgia? What grabs a fan like me, much less a fan who actually experienced the ABA?
It was an entertaining league. You remember the Julius Ervings. You remember a lot of the performers who were out there. Winning was important, but putting on a show was one of the important attributes of that league, too. We had a lot of the high-flying type athletes that have become popular now, led by Julius Erving, Darnell Hillman, and Larry Kenon. They had a guy like Dan Issel, who I thought was an aberration for a player that big who had skills like he had.
I had the luck to have played with Dan and Artis. When the Pittsburgh team folded, I was the seventh player picked in the dispersal draft, which was pretty high considering I wasn't a continuous starter on the Pittsburgh team the year before. It was really a treat to even have the preseason with those guys. Artis was a center who at that age—before he got so overly strong—who was very, very mobile. I thought he could have competed and probably turned around an NBA franchise. Not to the degree that Kareem Abdul-Jabbar did, but probably could have had an impact of maybe 20 games.
Now you said you went to Kentucky. Did you actually play with Kentucky?
Well, when you figure there were 24 players that were free, I was pretty high—you know, to be drafted as the seventh player drafted out of those 24. It was probably because I had had two 24-point games against Kentucky the previous season, so I guess they saw a lot of potential in me. But unfortunately, I got cut for Bill Chamberlain from North Carolina. I was really upset about that, but that's the way life goes.
Luckily, there was a guy who scouted me for Phoenix, Chick Craig, who was the coach of the Wilkes-Barre Baron in the Eastern League. He convinced me to keep playing, despite the fact that I had convinced myself that I had had enough. I felt that I'd played well enough in all the camps to make all the teams that I could have played for—starting with the Phoenix Suns, and of course at least I made the Pittsburgh Condors, played well enough to make the Kentucky Colonels, but they went with the guy who had more publicity, who was more well-known.
When you look at the state of professional basketball today, when you look at the league that your son is about to be drafted into as a lottery pick, how do you feel about professional basketball today?
It has the potential to be a great game, but what's happened to the game is that they've let the play get too physical. That's one of the reasons scoring is down so much. If you allow forearm checking as part of the defensive repertoire, it's just a natural progression that someone's pushing you, holding you, pushing you with the forearm. Or in the post, the way you have to fight for position in the post, some of the contact that's allowed to go, and fouls aren't called, naturally some of your scoring is going to go down because it's just so hard to score with that kind of physical contact.
When you see a little guy like an Allen Iverson be able to get in there, get pounded, but still score, you have to think there's some hope, but you've got to have some muscle to be able to make it in the paint.
I think sometimes the coaches have also not wanted to lose control of the game, so what they do is they put the ball in the point guard's hands. I don't really like the way this works in the NBA now, but the point guard will have the ball in his hands for 16 seconds before he makes the first pass. Sometimes you look at the shot clock and you have eight seconds left and it usually goes into the post, the post man can either decide to make his move or not make his move, and then if he's double-teamed, the ball rotates to get a 3-point shooter, or the post guy will decide to make his move.
And if that doesn't work, or one person makes a mistake, someone has the ball with the shot clock running down, and somebody takes a bad shot. I know that's stereotyping, because there still are a lot of good plays, but in a lot of the NBA games you see continuous halfcourt sets. Coaches are running the same types of plays and it's like having thoroughbreds pulling covered wagons.
You wonder sometimes if four corners is a play people are still calling, because it's almost like the idea is to keep the ball away from the basket.
That's what I said about the ABA. It was fun because creativity near the basket was very, very, important. Sometimes coaches should be a little understanding. If Julius turned the ball over three or four times with his finger roll…today there would be a lot of coaches who wouldn't let him expound himself to the next level. Julius was lucky he had coaches who were patient with that, who let him really develop that entertaining style that helped the league from the standpoint of the NBA recognizing the league and wanting that product within their corporation.
What's interesting is seeing the recent "Athletes of the Century" Julius Erving documentary on ESPN. The perception was still there that in spite of everything he brought to the NBA, that when the Sixers went out and lost in the FInals that first season, lost the championship to Portland, that his game underwent a marked change. His hair was tamed, and his game was even tamed a little bit.
Julius was always unselfish. I know Julius, and I played with Julius in the Rucker League. We were teammates; we're pretty good friends. Julius took second fiddle when the Sixers acquired George McGinnis and Andrew Toney. He tamed his game because he wanted to win. The NBA really didn't see the Julius Erving of the ABA. When he played with Charlie Scott as a rookie, it was fun to watch. Sometimes when I didn't play, it was fun watching those guys. Julius did play with George Gervin, but they almost took turns.
Well, obviously the ABA was a pretty visual league, so we're going to do our best to throw together a pretty nice layout for our article.
I don't know if I'm in any pictures. Nobody has pictures. I'm in a couple Pittsburgh Post-Gazette articles. And I found an old program from when I was with the Condors that they showed on the Wooden Awards when Wally was on. Everybody got a laugh out of that one. The shorts, and I had no moustache.
---