It's Time for the A-Train to Make a Stop at the Hall
This article originally appeared in March as a "Statistically Speaking" column at www.BasketballNews.com
---
A couple of weeks ago, "Statistically Speaking" examined Shaquille O'Neal's 1999-2000 season and came to the conclusion he was having as good a "modern era" campaign as any center in the past 23 years.
The centers Shaq was compared to all had won MVPs. The roll call read straight out of the big-and-tall men's section of the Hall of Fame: Kareem Abdul-Jabbar, Moses Malone, Bill Walton, Hakeem Olajuwon and David Robinson. Shaq hasn't won an MVP (yet), but the six players have another thing in common: They are all among the NBA's 50 Greatest Players.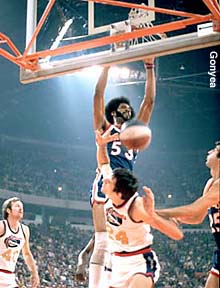 Great players all, to be sure. But when you look at that list of the NBA's 50 Greatest Players -- and more significantly, when you sneak a peek into the hallowed Hall of Springfield, Mass. -- there's a name of an historically quiet player that shouts out in absentia.
He's the all-time shooting leader in two professional leagues (yes, he was a better shooter than Wilt Chamberlain). He's the NCAA's all-time leading rebounder (yes, he dominated college boards more than Bill Russell). He was Rookie of the Year in Julius Erving's rookie season. And playing the most physically demanding position in the sport, he played 17 seasons and ran up consecutive-games-played streaks of 670 and 212 games.
The gentle giant who leaves a gaping hole in the Hall is Artis "A-Train" Gilmore. In five ABA seasons and a dozen NBA seasons, few players were as powerful and consistent on both ends of the floor as Gilmore. There are centers with more titles, MVP awards and higher profiles, but few whose numbers stand up to the A-Train's.
It's wrong to denigrate one player in an attempt to boost another. But let's face it, some Hall-of-Famers' plaques are polished more often than others', and the second tier of HOF pivots simply don't measure up to Gilmore.
Big men I'm including in the second tier with Gilmore are:
Dave Cowens (NBA MVP in 1972-73, NBA champion in 1974-75 and a 1991 Hall-of-Famer);
Elvin Hayes (NBA champion in 1977-78 and a 1988 Hall-of-Famer);
Wes Unseld (Rookie of the Year and MVP in 1968-69, and like his teammate Hayes, NBA champion in 1977-78 and a 1988 Hall-of-Famer);
Nate Thurmond (a 1984 Hall-of-Famer who on Oct. 18, 1974, recorded the first quadruple-double in NBA history, with 22 points, 14 rebounds, 13 assists and 12 blocks for the Bulls vs. Atlanta);
Bill Walton (a titlist in 1976-77 and 1985-86, NBA MVP in 1977-78 and a 1993 Hall-of-Famer);
Bob Lanier (a 1992 Hall-of-Famer);
Dan Issel (Gilmore's teammate in the ABA and a 1993 Hall-of-Famer).
Gilmore won one ABA MVP award, in his rookie year of 1971-72. His Kentucky Colonels made it to two ABA Finals, losing in seven games to Indiana in 1972-73 and winning in five games vs. the Pacers in 1974-75.
With the bells and whistles out of the way, let's take a hard look at the numbers. As in the earlier Shaq comparison, all the players involved are big men (although Unseld, at 6-7, was two inches shorter than power forward Hayes and surely one of the most undersized NBA centers ever), so I am using only the significant stats for centers here.
The numbers are weighted according to importance; thus steals (SPG) and assists (APG) are "x" where free throw percentage (FT%) is 2x, minutes per game (MPG) and blocks per game (BPG) are 3x, and field goal percentage (FG%), rebounds per game (RPG) and points per game (PPG) are 4x. "Total" reflects how the players compare with one another -- the lower the number, the better.
| | | | | | | | | | | |
| --- | --- | --- | --- | --- | --- | --- | --- | --- | --- | --- |
| Player | Career | FG% | MPG | FT% | RPG | APG | SPG | BPG | PPG | Total |
| Dave Cowens | 1970-83 | .460 | 38.6 | .783 | 13.6 | 3.8 | 0.78 | 0.64 | 17.6 | 83 |
| Artis Gilmore | 1971-88 | .582 | 35.5 | .698 | 12.3 | 2.3 | 0.49 | 1.88 | 18.8 | 83 |
| Elvin Hayes | 1968-84 | .452 | 38.4 | .670 | 12.5 | 1.8 | 0.66 | 1.36 | 21.0 | 90 |
| Bob Lanier | 1971-84 | .514 | 33.5 | .767 | 10.1 | 3.1 | 0.81 | 1.15 | 20.1 | 96 |
| Bill Walton | 1974-87 | .521 | 28.3 | .660 | 10.5 | 3.4 | 0.81 | 2.21 | 13.3 | 105 |
| Dan Issel | 1970-85 | .498 | 34.9 | .793 | 9.1 | 2.4 | 0.77 | 0.44 | 22.6 | 107 |
| Nate Thurmond | 1963-77 | .421 | 37.2 | .667 | 15.0 | 2.7 | 0.13 | 0.57 | 15.0 | 112 |
| Wes Unseld | 1968-81 | .509 | 36.4 | .633 | 14.0 | 3.9 | 0.64 | 0.37 | 10.8 | 115 |
The results are astounding. Gilmore, basketball's all-time leader in field goal percentage, leads there, and he finishes close to last in no category. His combined stats dominate six of the Hall of Fame big men listed here and keep even pace with Hall-of-Famer Cowens.
Let's pause here. Say Artis Gilmore falls into Red Auerbach's hands in the 1976 ABA dispersal draft. Do you think for a minute Cowens doesn't move to power forward and Gilmore isn't part of those 1974 and 1976 title teams? Don't hold it against Artis that the Bulls team he joined was so bad that even with him, it lost 13 straight to open the 1976-77 season. Or that the Spurs team he was eventually traded to was veteran-heavy and a little low on gas.
Gilmore's numbers above are combined ABA-NBA stats, as are Issel's. The NBA, of course, is willing to acknowledge the ABA when it suits it, such as when it comes time to implement the three-point line or slam-dunk competition, or sell retro T-shirts. But when it comes to the record book, the ABA simply never existed. Bull. The myth of the ABA as a "non-competitive" league is just that -- a myth. In head-to-head exhibitions from 1971 to '75, the ABA took the overall series from the NBA 79-76.
Technically, NBA-ABA rivalry shouldn't matter when it comes to the Hall of Fame. The Hall is for contributions to basketball, not to the NBA. It's the Hall's fault that it's confusing the two when it comes to ABA players.
For argument's sake, even if I throw out Gilmore's five storied ABA seasons, he holds his own with the others. He played in more NBA games than Cowens and Walton, still averaged 32.7 mpg, had better shooting percentages (.599 FG% and .713 FT%) and averaged only marginally fewer rebounds (10.1), assists (2.0) and points (17.7). The one thing Gilmore's NBA career lacked was a championship or an NBA MVP award.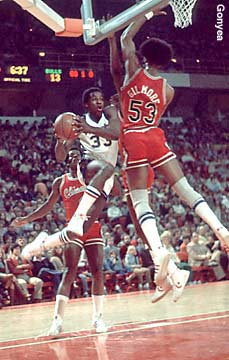 And while any regular visitor to www.RememberTheABA.com knows that I bleed red, white and blue, I'll bring up one more player to underscore the injustice Gilmore has suffered: David Thompson (right, #33). Thompson was elected to the Hall of Fame in 1996, after playing the final ABA season with the Nuggets and moving with Denver to the NBA, where Thompson played eight more seasons.
Fact is, the only way in which Thompson dominated Gilmore was in his ability to soar. Yes, Thompson was an astounding collegian at North Carolina State, but Gilmore was as good or better, one of only seven players in NCAA history to average 20 points and 20 rebounds for his career.
Thompson was a great player, to be sure. But Gilmore played in more than twice as many games. He fell short of an NBA ring and MVP award, but so did Thompson. Gilmore was certainly more consistent and reliable. Gilmore's devastating knee injury broke a streak of 670 consecutive games and happened on the court; Thompson was more inconsistent even when healthy, and he suffered his devastating knee injury falling down a flight of stairs at Studio 54.
Is the Hall trying to tell us it went the new-school route of recognizing an individual's talent above a team's, valuing the occasionally spectacular above the consistently great -- even before the NBA did -- with its 1996 election of Thompson?
Gilmore was a first-team All-ABA player and a top 10 scorer (and led Kentucky to the playoffs) in each of his five ABA seasons. He was an All-Star in 11 of 17 ABA-NBA seasons. He never missed an ABA game.
Gilmore shot better than 60% in six seasons, including an NBA all-time third-best .670 in 1980-81, and he led the NBA in shooting four times. His 22.7 rpg in 1970-71 is the best rebounding average in NCAA history.
Yet criticism dogged Gilmore throughout his career. Isn't it time to put an end to that and recognize the most overlooked player in the history of pro basketball?
If you think so, let the Hall know. You can contact Doug Stark, the Hall of Fame's librarian and archivist, at the Naismith Memorial Basketball Hall of Fame, 1150 W. Columbus Ave., Springfield, MA 01101-0179. Or log on to http://www.hoophall.com to e-mail the Hall.
---
You can contact Brett with comments about this article by e-mailing him at brettballantini@yahoo.com
This article Copyright © Brett Ballantini and used with permission

Back to Main Page